Fruits be considered one of mask ingredients Most favorite of women. Not only is it a great source of vitamins, the mineral components and natural acids in the fruit also help support the treatment of many skin problems effectively. However, not all fruits are suitable for all skin types. So while it is very good, if not used properly, this mask can cause some mild irritation.
So, Should acne skin wear a fruit mask?? Let's find out through the following article of Miss Tram - Natural Beauty Center ok
Should I Use Fruit Mask For Acne Skin?
1. Characteristics of acne skin
Acne It is a skin disease, and is also the result of many interacting factors. According to dermatologists, the cause of acne is related to two main factors: hormones and bacteria that live in hair follicles. Normally, this bacteria (P. ance bacteria) will not cause any harm, but when the pores are clogged and there is excess oil, it will create an ideal environment for them to multiply, causing inflammation and formation into acne.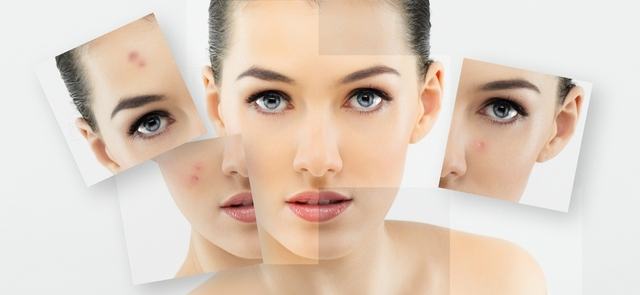 Acne-prone skin usually has the following characteristics:
Acne prone skin is often oily and comes with larger pores.

The skin is more sensitive, fragile and very easily affected by the external environment.

With severe acne conditions, if impacted by strong force, the acne area can be damaged.
Therefore, when using masks or skin care products for acne, you need to be very careful not to irritate the acne skin. (Refer to Simple skin care routine for acne skin safe, effective, widely applied today).
2. Features of the fruit mask
Fruit is a very rich source of vitamins, minerals and natural acids, which effectively cleanse, nourish and moisturize the skin. In particular, there are many fruits that are also very good in the treatment of skin, especially acne, melasma, freckles.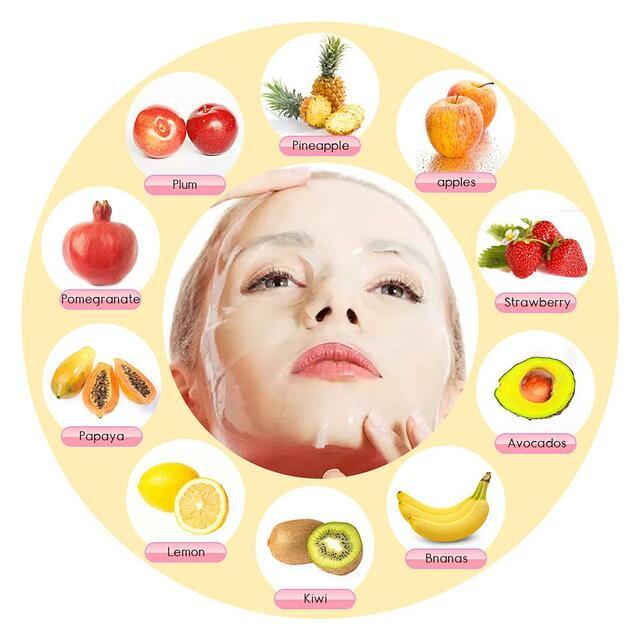 However, not all fruits are suitable for all skin types. For example: Oily skin should limit sweet fruits; Dry skin should limit too acidic fruits; Sensitive skin then both limit fruits with strong bleaching properties, and stay away from fruits with irritating ingredients (plastic, latex).
Therefore, with acne-prone skin, you can still be used types of fruit masks, but should note the following points:
Limit the use of completely sweet fruits

(such as banana, mango, na, pomegranate…

) because this type of mask both causes the skin to be more irritated with excess oil and creates conditions for bacteria to grow.

With fruits with a lot of acid

(like lemon, pineapple, strawberry, ...)

, need to be used in moderation or in combination with other ingredients

so as not to destroy acne skin.

With fruits that may have irritating ingredients such as cucumber, papaya (

high amount of resin and latex

), you need to wash and test it on the skin of your hand before use.

Do not leave the mixture in the air for a long time, because they are very susceptible to oxidation and bacteria attack - causing skin irritation.

Do not apply the mask too many times a week (only 1-2 times) for the best care and treatment.
>>> Related Articles: Tips acne skin care during pregnancy safety you should learn.
3. Some fruit mask recipes for acne skin
Strawberry and honey mask
Strawberry is a fruit that is rich in Vitamins C, B, B6, folic acid, and especially has a very good antioxidant effect, helps to clean the skin, increase stimulation of production. collagen and speed up the healing process. Meanwhile, honey is an ingredient with antibacterial, anti-inflammatory and moisturizing functions. The combination of these two ingredients will form an effective face mask that protects and nourishes the skin.
Doing:
Step 1: Strawberries washed with salted water, crushed.

Step 2: Mix 1 tablespoon of mashed strawberries and 1 tablespoon of honey.

Step 3: Apply the mixture evenly on the skin, gently massage for 3 minutes.

Step 4: Leave it on for 15 minutes and wash it off.
Tomato mask and honey
Tomato is a fruit that contains a lot of vitamin C - has the effect of removing excess oil, supporting acne, melasma and smooth white skin. And in particular, the antioxidant compounds present in tomatoes also have anti-aging effects, helping to reverse the risk of acne formation, giving the skin a youthful, even color. Using a tomato and honey mask is also a good choice for acne-prone skin.
Doing:
Step 1: Mix 1 teaspoon of tomato puree and 1 teaspoon of honey.

Step 2: Apply the mask evenly on the skin and gently massage for 3 minutes.

Step 3: Leave it on for 15 minutes and wash it off.
Apple, Yogurt and Lemon Mask
Apple is a fruit that is not only very good for health but also has great skin-nourishing properties. Because this fruit is rich in antioxidant compounds, vitamins C, A - support collagen formation, increase elasticity and effectively regenerate skin.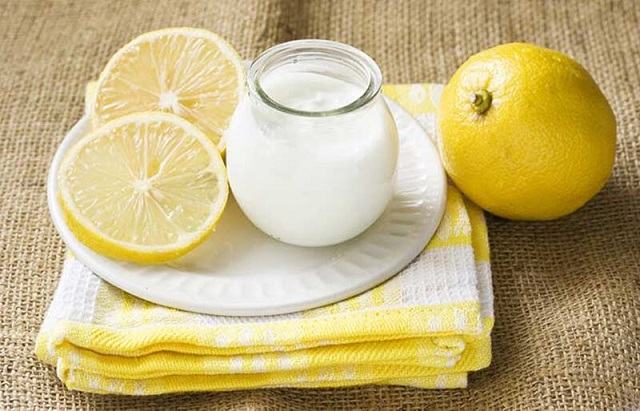 The amino acids in yogurt have the function of cleansing and providing moisture to the skin. And lemon juice helps to remove dead cells, balance excess oil and dry acne quickly. The combination of this trio will form a moisturizing mask and acne treatment very good for skin.
Steps to take:
Step 1: Mix 1 teaspoon of apple juice, 1 teaspoon of unsweetened yogurt and chanh teaspoon of lemon juice.

Step 2: Apply the mixture on the face, massage the face for 3 minutes.

Step 3: Relax for 15 minutes, then wash your face with clean water.
Note: The above mask recipes should only be done with mild acne (like acne bran, hidden acne, blackhead, mild acne), but with heavy, dense or inflamed acne, you should not use masks on the skin. In these cases, it is best to consult a dermatologist.
Come to Miss Tram - Natural Beauty CenterYou will be examined and examined very carefully. From there, skin specialists will develop a treatment plan in the most appropriate and scientific way.
In particular, the majority of customers with severe acne use acne treatment with Fractional CO2 Laser technology combined with esoteric herbal oriental medicine. This technology is a breakthrough in the field of recovery and treatment of acne skin and pitted scars, promising to bring the fastest and most radical treatment results. When combined with Miss Tram's professional skin care process and completely natural herbal formula, acne skin will be eliminated and restored quickly.
In particular, the CO2 laser wavelength also helps stimulate tissue collagen production, fill in acne scars, improve facial skin firmness and effectively reduce dark spots.
To ensure that the acne area is properly cared for and nourished, you need to carefully choose the ingredients used for the skin. Besides, always monitor the acne situation every day to make sure the acne nodules Don't go in a bad direction.
Hope the above sharing of Miss Tram - Natural Beauty Center will be useful to you. Wish you always have a beautiful healthy skin! (Refer to the Requirements for acne treatment highly appreciated by many experts today).
See More About News – Beauty Secrets By Miss Tram - Natural Beauty Center:
Top 7 Best Natural Masks For Skin Age 30
Facial Skin Is Frequently Red What To Do?