In recent years, in the career trend that is interested and the top choice must be mentioned beauty industry (Spa – aesthetics). Undeniably, the strong growth of salon, millions of Vietnamese workers have a stable job with high income, greatly improving their quality of life.
Great Opportunity For Today's Beauty Pursuits
Beauty profession: Stable job opportunity – High income
We can clearly see that as the quality of life improves, other needs will also increase a lot. The most typical is the need for beauty and self-care. If in the past, beauty was only a privilege of women and those who were "abundant", but today all genders, all ages and diverse classes can use beauty services to help themselves. believe more.
When user demand increases, it follows that the constant growth of service providers. According to statistics, every year in Vietnam, there will be about 2.000 business units in the field of spas or beauty salons opening. "Vietnam's beauty industry is facing the opportunity to develop quickly and sustainably, as technology, science and technology in this field are increasingly developed." – Assoc. Prof. Dr. Cao Van Sam, Vice Chairman of Vietnam Association of Vocational Education and Social Work Profession.
The increase in user demand will lead to the need for human resources. It is obvious that human resources for the beauty service industry are not only concentrated in big cities but also in rural and provincial areas still need this team.
Currently, the beauty service industry is considered as one of the trending industries, with strong potential for development because the demand for beauty is always present, and as life goes up, we will inevitably fall in love. more self, will focus more on external appearance. This has created job opportunities that attract a large number of workers.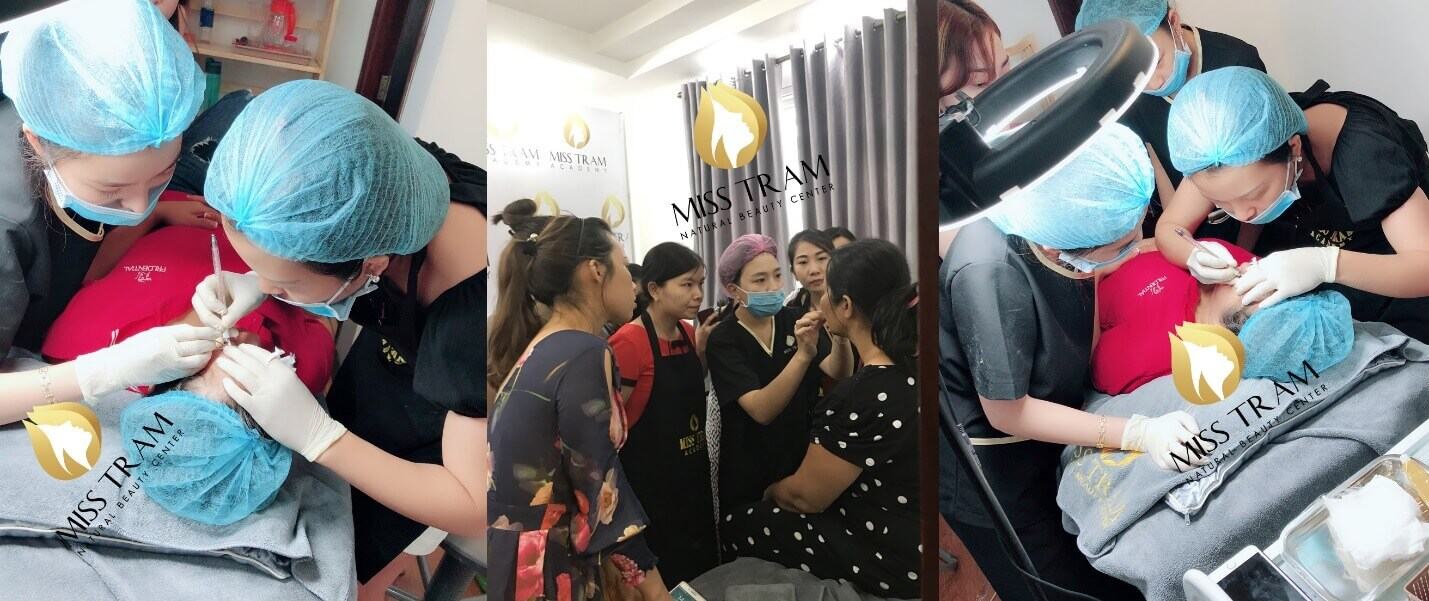 According to the survey, beauty services (including skin care, skin treatment, cosmetology, tattooing, ...) bring a relatively high average monthly income, typically tattoo spray can receive Salary 15-20 million/month.
Not to mention, this field creates open opportunities for those who want to develop in the future and want to own their own property. Because when you master the technique and know the specific know-how, you can completely "be ahead of the wave", run your own beauty care center.
>>> Related Articles: What is the hottest beauty profession?? Take a look at 5 beauty careers that are being pursued by many people today.
The path to beauty: Be really loving and wise và
High income, comfortable flexible working time, easy to build your own property are what you will get when you choose to develop with the beauty profession. But before that the process of acquiring knowledge, the process of vocational training was difficult and complicated? This must be a question that many people who plan to pursue the beauty industry are interested in.
With many years of training experience of Miss Tram Academy, we realize that the first criterion to bring you to success is passion. Because with love and passion, we are persistent enough to pursue our dreams to the end. And next, you must choose a reputable training institution that will help you grasp techniques and acquire technology in a methodical way to apply it in practice.
The beauty industry is important in practical skills, but the background knowledge is still required to be able to handle situations that occur during manipulation. Therefore, the advice for you is still to choose places with enough teaching ability, enough experience to transmit and enough modern equipment for you to familiarize yourself with and manipulate.
When choosing to study the beauty profession, we do not have to spend too much time like some other academic fields. Such as, Spa industry, skin care, sculpture (eyebrows - eyes - lips), cosmetic injection, etc., if we work hard, it will only take about a month for us to grasp the technical manipulation. And of course, it takes some time rubbing with reality for your skills to improve.
In fact, no profession is strewn with roses, and no road to success is smooth. However, if you do not try, do not dare to face challenges, we may have missed many good opportunities. If you really love the beauty industry, go boldly with it!
See More About News – Beauty Secrets By Miss Tram - Natural Beauty Center:
How to Make Skin Smooth After Acne
Just Use Fresh Milk At Night Your Skin Will Light Up In Seeing