OPPORTUNITY TO BE BEAUTY WITH MISS TRAM SPA
FOR 18 Hot-Face HAS "REAL" FOLLOW OVER 3000.
* Prioritize the hot-mom, hot-boy, flight attendant, who works in the non-profit community organization and people working in medical field (doctor, nurse) *
Possessing outstanding charm and a huge fan following, are you making good use of these strengths?
With the desire to help the Hot-Face more and more beautiful and successful, Miss Tram Spa offers the opportunity to use premium beauty packages completely free of charge. Along with that are the Hot-Face widely promoted in the media channels of the Miss Tram VietNam (average more than 100 visits to the website system per month).
More beautiful, more successful… these are the things you get when accompanying Miss Tram Spa now!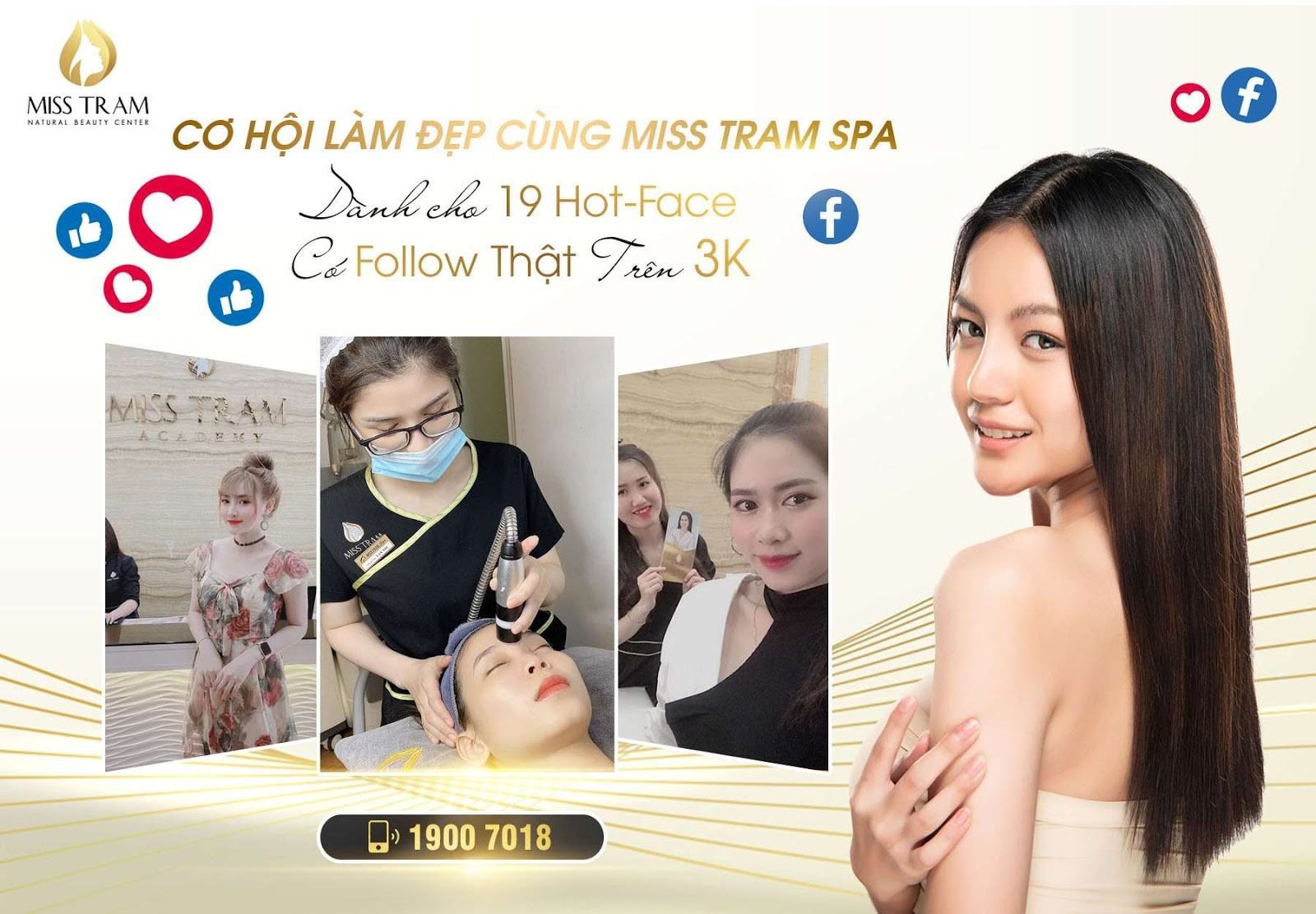 Who can join us?
People who love beauty, makeup, cosmetics, fashion, livestream.

Youtuber, Facebooker, Blogger, Tiktoker, Instagramer ... have profiles with a following of 3000.

There is a good amount of interaction on the posted content.
As a person with his own style, receiving the trust of fans.
Prioritize the hot-mom, hot-boy, people working in nonprofit community organizations, flight attendants and people working in the medical field (doctor, nurse).
In Vietnam (You can collaborate online or come directly to the Spa).
Who is Miss Tram Spa? Why can you feel secure when cooperating with Miss Tram Spa?
Aesthetic center Miss Tram - Natural Beauty Center one of prestigious beauty address, famous in the City area. Ho Chi Minh. With 15 years of establishment and development, the center has constantly reformed facilities, machinery and equipment and received and transferred the latest advanced technologies. Aim to improve service quality and bring absolute satisfaction to customers.
Always understand the changes of modern beauty, but Miss Tram Spa still Maintain the standards of Asian beauty with the operating motto: "Beautiful but must be natural". With this separate entrance, the center has been asserting its position among the quality aesthetic centers in the southern region.
Present, Miss Tram beauty salon There are services like skin rejuvenation careFull body acne treatment (Advice on suitable acne treatments, back acne treatment....), cosmetic eyebrow tattoo spray, lip cosmetic tattoo, redo your eyebrows - each... Along with that is a number of advanced and highly developed technologies such as Remove tattoos without leaving scars, treat melasma at the root, fade old scars and safe hair removal american technology.
In addition, Miss Tram Spa also has other outstanding beauty services including:
Stimulates eyebrow and eyelash growth from sheep placenta DNA
Reduce belly fat with advanced technology and develop acupressure from Korea
Rejuvenate skin with salmon DNA
Restore skin that is allergic, toxic due to the use of unsafe cosmetics.
Restore skin beauty with Nano diamond implant method.
Remove/add cosmetic moles.
As a leading brand in professional skin care and cosmetic tattooing, Miss Tram confidently contributes a small part to confidence, lighting up the dreams of Hot-Face who are looking to develop their career. 1 sustainable, gentle way.
What do you get when you cooperate with Miss Tram Spa?
Used beauty treatments Tailor-made to suit your needs.
Special offers for friends and family when using services / products at Miss Tram.
Promoted personal image to a large number of people who love beauty
Enhance your reputation and self-image when collaborating with Miss Tram
There is no binding, not limited to cooperation with other brands.
Opportunity to become a brand ambassador for Miss Tram Spa after a period of cooperation with more benefits, creating a great influence in the field of beauty.
What will the Hot-Face do with Miss Tram Spa?
After each use of the beauty spa services at Miss Tram, you need to give an honest review (feel free to criticize) about your experience.
Cooperate in making service experience videos, or share your beauty experiences with everyone.
Your image / Video will be used by Miss Tram for advertising communication to the community.
Subscribe: Hot-Face and Miss Tram Beauty
Hot-faces who have trusted in the craftsmanship at MT
Artist Thanh Bach
HOT GIRL WEST LY
HOT GIRL SIN NGUYEN
HOT FACE KIM DUNG
Hot Mom Di Bang
Together, we help you stay beautiful, charming and save a lot of money on beauty. From there, you can rest assured to develop your HOT level.
So fill out the form below and let's get together