VIETNAM WOMEN – HAPPY BEAUTY
October Super Promotion at Miss Tram
On the occasion of October 20, Miss Tram Beauty brings an unprecedented customer gratitude promotion with the price ENDOW attractive up to 30%-60% services and many special gifts.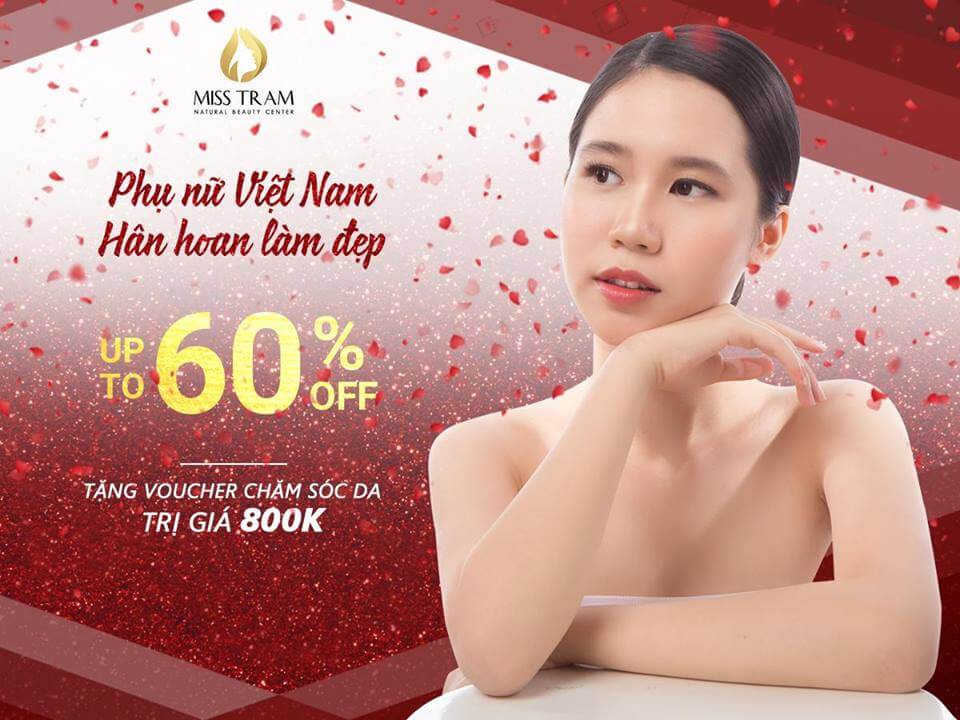 Time application: October 05, 10 to the end of October 2018, 30
Applicable Objects: All customers have a need for beauty when contacting Miss Tram
Address: Apply on total Miss Tram branch (Branch Address)
DETAILS OF HOT SERVICES OFF 30% TO 50% :
Ultra-fine powder eyebrow spray: 2.400.000 -> 1.200.000
European standard 9D eyebrow sculpture: 6.000.000 -> 3.000.000
Spray Crystal Lips: 2.500.000 -> 1.500.000
Micro-lip sculpting: 4.500.000 -> 3.000.000
Full treatment cost package + Natural crystal lip spray from only 2.500.000 VND
Spray eyelids only 1.000.000 VND
SPECIAL: Direct discount 5% bill when going 1 person, extra discount 10% when traveling from 2 people or more or register to do 2 services.
Conditions apply to customers who complete the following 3 steps:
Step 1. Like strongly Misstram spa page
Step 2. Share the post in public mode
Step 3. Tag 2 friends under the post comment
In addition to the discount program, Miss tram also donate voucher gratitude to old customers at the Center or customers who use services at Miss Tram in October
Gift voucher for intensive skin care of your choice worth 800k include:
1. Release toxins to regulate sebum
2. Lead mercury to purify the skin
3. Run collagen essence gold skin rejuvenation
4. Run Vitamin C to whiten and brighten dull skin
And there are many other services for acne, skin care, hair removal... up to 30% off.
Opportunity for girls to beautify and give meaningful gifts to their beloved women!
Thank you customers for your support Miss Tram Spa During the past time, and there are still sisters who cannot arrange work, or come at times when Miss Tram cannot serve. So let's see each other this month
All beauty services of Miss Tram Spa use the most advanced technology from leading countries in the field of cosmetology, transparent origin, herbal ink, non-irritating to the skin, absolutely invasive. Invade as little as possible, and update the latest beauty trends every day.
Don't miss the opportunity to beautify with Miss Tram in the biggest Super promotion of this year, hurry #How to/ Inbox(m.me/MissTramSpa) or call #HOTLINE 1900 7018 for advice on all your questions about the service.
MISS TRAM NATURAL BEAUTY CENTER – BEAUTY BUT NATURAL.
Facility: 1 Dang Thi Nhu, P. Nguyen Thai Binh, 30 District, Ho Chi Minh City
Facility: 2 / 126 Phan Xich Long, P. 6, Binh Thanh District, TP. HCM
Phone: 0909 783 289 – 093 718 6060
Hotline: 1900 7018
Working time: 9H00 - 20h00 (All days of the week)
Website Miss Tram Natural Beauty Center: https://thammymisstram.vn/
Website Miss Tram Academy: https://en.misstram.edu.vn/
Review Top Skin Care Products