|Q&A| Eyebrows With Short Tails, If You Don't Have A Aftermath, What Style Should You Do
In the category Q&A This week, there's a question about eyebrows Miss Tram VietNam quite impressive as follows:The eyebrows have a short tail, if you don't have a happy look, what should you do?? "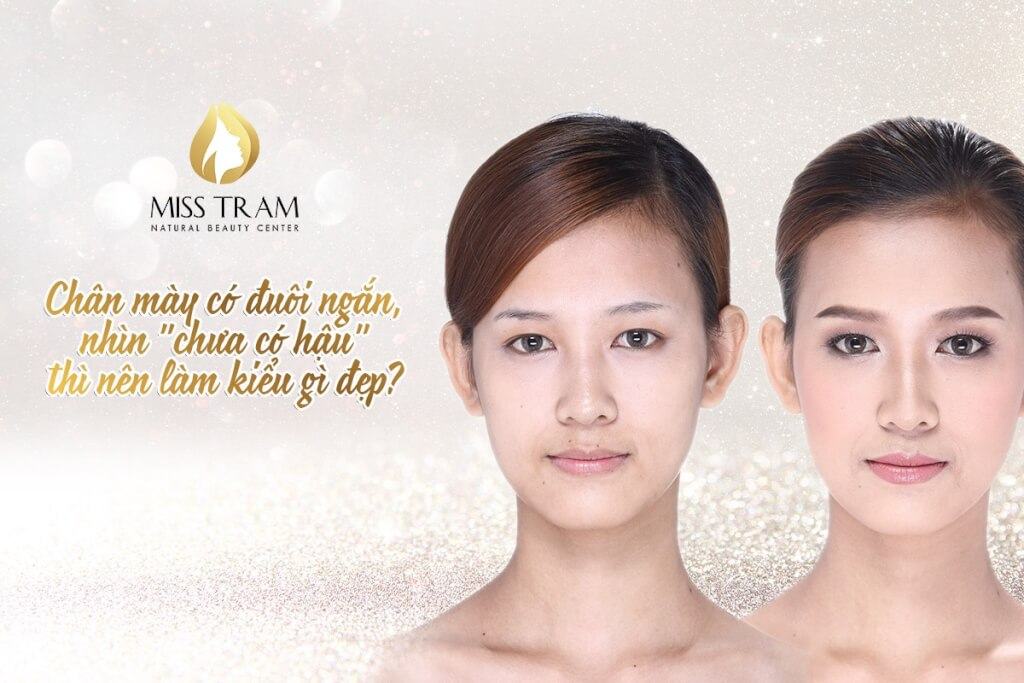 This question is actually related to the feng shui of the eyebrows, in anthropology people compare the tailless eyebrows to a love story without stopping:
People with short eyebrows are often considered stubborn and argumentative.

If the eyebrows are short and short, revealing the raised eyebrow bone, lack of vitality, causing the opposite person a bland impression, no feeling of comfort.

The face is poor or has money but does not know how to enjoy it.
So no one wants to keep such eyebrows forever, right?
At Miss Tram Natural Beauty CenterThe case of eyebrows like this customer's is not uncommon. And the proposed method as well as meeting the customer's requirements is 9D natural fiber sculpting. (Refer to the picture actual results customers when they come to beauty at Spa Miss Tram).
This is the most advanced eyebrow threading technique available today. The specialist will measure and shape the eyebrows according to the golden ratio of the face. Then, based on the color and size of the real eyebrows to create meticulous, sculptural strokes, interwoven into the empty part to make the eyebrows look natural.
In the future, when the eyebrows naturally grow out, just cleverly trimming according to the existing eyebrow shape is already beautiful, so you can rest assured.
You can visit Miss Tram to have the eyebrow shape that best suits your face!
To have a perfect, sharp or "feng shui" eyebrow, Miss Tram Natural Beauty Center will help you fix it with one of the following outstanding methods:
Spray eyebrows with American ink powder with 100% herbal extracts to create sharpness for eyebrows.

Ombre eyebrow spray creates a natural, soft eyebrow shape.

Magic Shading eyebrow spray creates more depth and sharpness.

Sculpting eyebrows with natural fibers 3D - 9D highlights each eyebrow line.

Sculpting eyebrows with natural fibers combined with Spray Ombre / Shading creates both natural and sharp eyebrows.

9D technical male eyebrow sculpture.

Delete, correct, handle the phenomenon of red and blue eyebrows before.

....
Don't hesitate to #Comment/ Inbox or call #HOTLINE 1900 7018 for advice on all your questions about the service.
Sculpting eyebrows with natural fibers with 6D - 9D techniques for Men and Women.

Sculpting eyebrows with natural fibers combined with Ombre/ Shading/ Sandy spray.

European eyebrow sculpture.

Spray Ombre eyebrows.

Magic Shading eyebrow spray.

Spray eyebrow powder crystal American ink 100% herbal extract.

Spray eyebrow powder Queen toner.

Delete, correct and handle the phenomenon of blue and red eyebrows.
With Miss Tram - Natural Beauty Center Some Questions Answered Other:
If you want a beautiful lip color after tattooing, you should pay attention to which beauty products to use
If Lips Are Thick And Dark, Will Spraying Last Longer