One smooth and healthy skin is always the top concern of modern women. Therefore, on the occasion of International Women's Day, these packages skin care routine Probably one of the most meaningful and practical gifts for women.
Healthy Skin Care: A Meaningful Gift For A Loving Woman
Healthy and beautiful skin care: The concern many girls want to have
With the development of life needs, any modern woman is always looking for beauty, wants to be beautiful and to express herself. In particular, skin care is considered the most concerned issue for women, because a healthy and beautiful skin will make the face more fresh, younger and more beautiful.
On meaningful holidays like 8/3, in addition to fresh flowers, it would be great if women were cared for by the man they love and given the gift of "Beauty skin". This gift is not only a word of encouragement and encouragement, but also shows the thoughtfulness and sharing of the gift giver for the other half of the world. (Refer to the secret Spring facial care for women over 30 safest and most effective).
On this 8/3 occasion, Miss Tram - Natural Beauty Center There are many meaningful gifts for women. Those are packages Premium Skin Care with Hot Deals accompanied by these Meaningful Gifts Phần Best:
During the days of March 1 to March 3, Miss Tram has a special promotion SUPER HOT: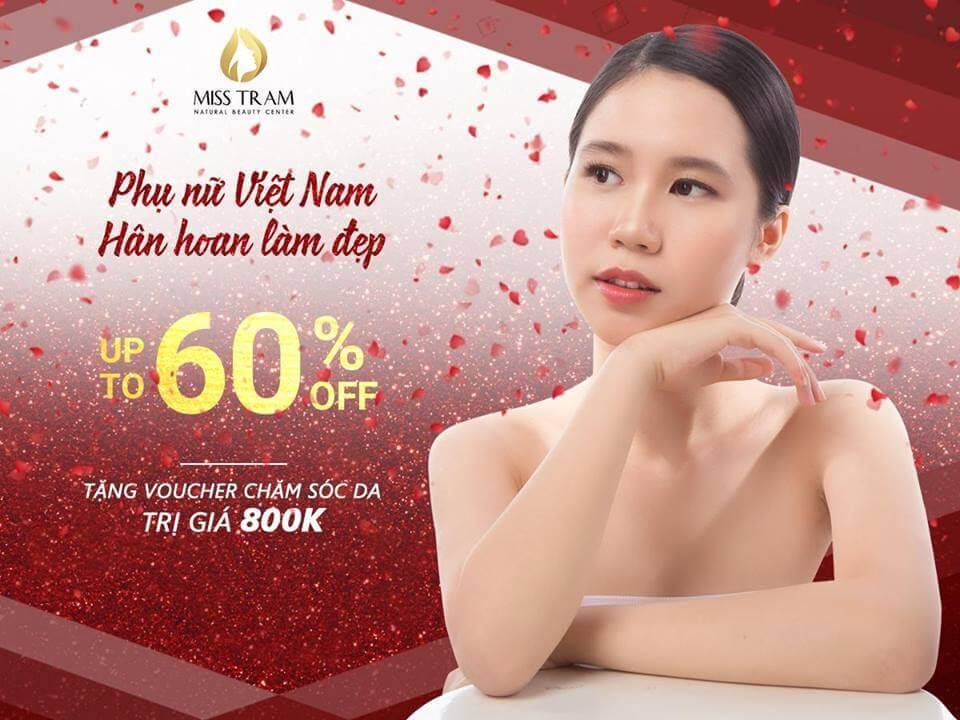 Skin Care Buffet with Buy 1 Get 5 Combo Pack
Remove toxins - regulate sebum for cool and smooth skin (original price 800k / time)

Rejuvenate, enhance skin elasticity with Gold Essence Collagen (original price 800k/time)

Brighten skin with Vitamin C (original price 800k / time)

Mercury lead suction - purify skin bright and clean (original price 800k / time)

Run cold electrophoresis with salmon DNA essence (original price 1.2 million/time)
AND "SUPER HEARING" FROM MISS TRAM ABOUT SERVICE PRICE:
Do the package 5 times, only 3 million

Do the package 10 times, only 4 million

Do the package 15 times, only 4,5 million

Do the package 20 times, only 5 million
SPECIAL: In addition to the meaningful gifts that Miss Tram has prepared, for customers who buy a package of 15 times or more, Miss Tram also offers a Fresh Oxygen Spray - helping to tighten pores, cool and smooth the skin. .
Whether you have or do not have a loving half, you should reward yourself with a suitable skin care course. Because of "Who loves me more than myself?", pamper and take care of yourself to always be the most beautiful and comfortable in your day.
Some favorite skin care treatments at Miss Tram - Natural Beauty Center:
Skin detox treatment with CO2 Mask – care for skin in smoky areas vùng
Skin detox with CO2 mask is a safe, non-invasive, painless, no-retreat treatment that is FDA-approved for all skin types, including sensitive skin.
This detox process is mainly based on the action of CO2 gas, which penetrates deep into the blood vessels and brings about positive effects:
Accelerate metabolism, help the skin to be detoxified.

Stimulate collagen proliferation, regenerate damaged skin (sensitive skin, bruises, acne scars, less elastic, ...).

Enhance elasticity to help rejuvenate the skin, repel wrinkles from the inside.
Especially, in this era of environmental pollution and dense fine dust, the CO2 mask detox is a great choice for the skin.
>>> Related Articles: Share tips facial skin care after squeezing acne current spa standards.
Skin rejuvenation with Salmon DNA Electrophoresis – care for areas of premature aging (less firm, dull skin, many bruises, rough)
Salmon DNA Electrophoresis is a method to promote skin regeneration, helping the skin to be rejuvenated and shiny thanks to the PDRN component (polydeoxyribonucleotide) found in salmon DNA essence.
The "miracle" uses of the method of Skin Regeneration with Salmon DNA Electrophoresis:
Increase collagen Elastin to help skin stretch and elastic.

Salmon DNA helps whiten and smooth skin, remove scars, redness...

Improves firmness on the skin, bringing youthfulness to the skin.
In particular, salmon DNA essence extracted from nature should be completely benign, suitable for sensitive skin.
With a simple, fast but highly effective procedure right from the first session, Revitalize your skin with Salmon DNA Electrophoresis Great gift for skin showing signs of premature aging such as less firmness, dull skin, many bruises and roughness.
Skin rejuvenation, V-line face slimming with high-end Hifu S+ technology
Skin rejuvenation, slim V-line face by HiFu S + technology is a method of using high-intensity focused ultrasound waves, with heat ranging from 60 to 70 degrees, creating an impact deep under the layer up to 4,5mm. HiFu S + technology has the ability to penetrate deep into the dermis, stimulating areas of skin lacking Collagen and Elastin to work more intensely. From there, bring unexpected results:
Promote skin epidermal cell restructuring, improve elasticity, skin gradually becomes smooth and fade wrinkles.

Direct impact on muscle groups showing signs of sagging, helping to slim and firm facial muscles.

Melt the double chin, create a standard V-line face, make the face sharper and more youthful.
Skin rejuvenation with Hifu S + Technology is considered the best choice for aging skin (wrinkles, sagging, crow's feet, ...) when improving youthfulness, enhancing skin firmness without side effects, non-invasive and maintaining long-lasting results after only one course of treatment. Best.
With nearly 20 years of experience in the field skin care - treatment, Miss Tram - Natural Beauty Center constantly updating beauty technologies, committed to providing quality services, absolute safety and the most satisfaction to customers. Especially, on the occasion of International Women's Day, many attractive gifts from Miss Tram are waiting for wonderful women!
Contact information Miss Tram - Natural Beauty Center:
Basis: 126/6 Phan Xich Long, Ward 3, Binh Thanh District, HCMC
Consulting call center: 1900 7018
Website: https://thammymisstram.vn/
Fanpage: https://www.facebook.com/MissTramSpa
Working time: 9:00 - 20:00 (All days of the week)
See More About News – Beauty Secrets By Miss Tram - Natural Beauty Center:
Modern Acne Treatment: Technology alone is not enough
30 Common Mistakes When Taking Care of Women's Skin
Should I Wear Makeup If I Have Acne?
Review Top Skin Care Products