Excerpt from the entry into the contest "I'm Confident" of a genuine office girl, unfortunately having to accompany for many years with an unpleasant acne "friend" and the journey to find bright, smooth skin.
"I'm Confident" is a contest for internal customers at Miss Tram Natural Beauty Center to honor and share their beauty stories.
Listen to the Story of the Girl Overcoming the Obsession named Acne Tên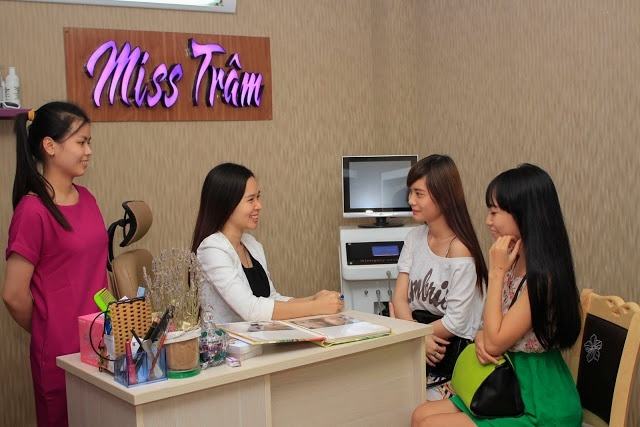 My name is NTHD, this year is 25 green spring, from puberty until 22 years old on my face, there are a few sebaceous fibers but not significant. In general, the facial skin at that time was evaluated by friends of the same age as healthy and quite smooth, everywhere I heard compliments "The face is so beautiful", "People like you probably don't have to spend money on cosmetics." please help me take care of my skin like D"… After hearing that, just call it a full face, confident everywhere because your skin is bright and white.
But life is not like a dream, the big turning point in beauty has made me mentally depressed for a long time after graduating from school, joining the office with a mountain of work, changing living hours, neglecting work. Daily care makes me officially say goodbye to beautiful healthy skin. The face becomes a "fierce battlefield" where billions of different types of acne, blisters, blackheads, dark scars ... are stationed.
In the face of that beauty crisis, I myself also ran around to find a cure, from cosmetics to natural ingredients, everyone told me to do it in the hope of regaining the original skin but no one. As a result, the acne is infected more widely. That's what made me fall into a state of severe stress, never dared to look in the mirror, in the Company was never entrusted with negotiating with customers, receiving many reprimands and discussions from everyone. about the skin.
Each time I just wanted to go back to the little house, hide in the corner of the room and cry alone in despair. Sometimes I think that maybe I will live with skin like this for the rest of my life, but I have tried many times but there is no way to succeed, I want to give up and give up everything.
>>> Related posts: Acne Treatment With Oxy Jet Technology – Find out important information to know about Oxy Jet Technology.
The story seemed to fall into a dead end, but fortunately there was a miracle for D.
I clearly remember that day when the company welcomed a new female colleague to work, the boss even divided himself to guide that colleague, for some reason, he was very impressed with her skin, the two sisters asked and talked. I know that she went through the same period as me, to have the skin like now is thanks to Miss Tram Natural Beauty Center - Beauty spa in the city. Ho Chi Minh has nearly 20 years of experience in the field of Skin Care - Acne Treatment - Cosmetic tattooing.
I did not hesitate to "book" an appointment for treatment right at Miss Tram Spa on the weekend. The first impression is the enthusiasm and dedication of the team of technicians and consultants at Miss Tram.
After being examined and carefully examined by experts, I was able to develop a separate treatment course, which is to use Fractional CO2 Laser Micropoint Activation Technology. This technology has many outstanding advantages, after listening to direct consultation and treatment, I was very satisfied with this method.
Fractional CO2 laser micropoint activation technology is a technological breakthrough in the field of acne skin recovery and treatment - pitted scars. With a wavelength of 10.600 nm, it is able to penetrate deep into the dermis without causing invasion of the surrounding healthy skin.

Eliminate acne-causing bacteria, regulate sebum on the skin and antibacterial.

CO2 laser helps to stimulate collagen proliferation tissue to fill acne scars, while improving facial skin problems, helping to firm skin, reduce dark spots, wrinkles, smoother and younger skin..

It not only treats acne, dark spots but also helps whiten and smooth skin, tighten pores and regenerate healthy glowing skin.

The level of acne recurrence is low and minimizes inflammatory acne when it comes back.
My treatment is performed by the highly skilled specialists of Miss Tram Spa, during the treatment process, I find that KTV is very delicate, often alternating skin care, giving customers an extremely relaxing feeling. Relax, create breaks for the skin to recover.
>>> Related posts: Requirements When Treating Acne - 8 important notes while treating acne for quick skin recovery.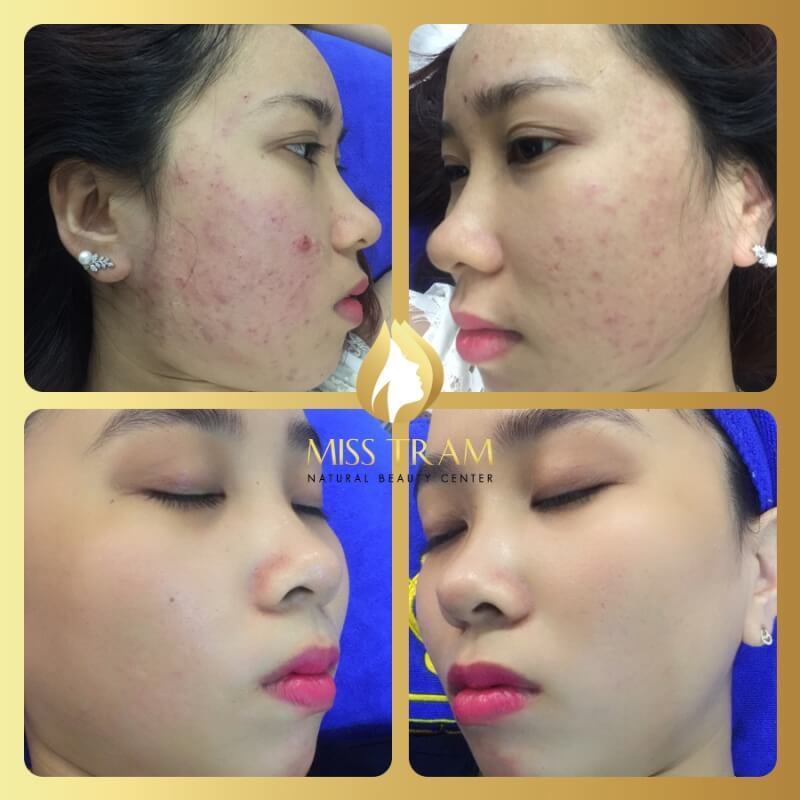 After 4 months of treatment, my facial skin has achieved 90% of the expected results. I am now more confident, love life a lot more with healthy, acne-free skin, no longer feel pain every night when the wind turns, no longer feel self-conscious when meeting customers or gathering with friends. after work.
I really thank the Miss Tram team for accompanying me on the way to regaining natural healthy and beautiful skin. If you are unfortunate enough to own a skin like me, take action immediately "Don't wait for bad skin to take care of" you!
Contact information Miss Tram - Natural Beauty Center:
Facility: 590/E4 Cach Mang Thang 8, Ward 11, District 3, City. Ho Chi Minh City (Opposite Le Thi Rieng Park)
Consulting call center:

1900 7018

Website: https://thammymisstram.vn/
Working time: 9:00 - 20:00 (All days of the week)
See More About News – Beauty Secrets By Miss Tram - Natural Beauty Center: