Dry skin It is the most common skin type in women. Dry skin is not serious but is often prone to premature aging problems. Moisturizing creams, masks, mineral sprays, ... are effective moisturizing products for dry skin. Besides taking care of your skin from the outside, did you know that taking care of your skin from the inside is also extremely important? Together Miss Tram - Natural Beauty Center Learn how to moisturize from the inside to make dry skin smooth!
3 Tips to Hydrate Dry Skin
1. Drink enough water
In the articles shared by Miss Tram - Natural Beauty Center all mention water, because water is extremely important to help moisturize all skin. Every day you should provide at least 2 liters of water for the body including water in food to balance the amount of water lost. And should maintain the habit of drinking enough water every day to keep the body and skin healthy.
For those who regularly practice sports or sit in the air conditioner all day, it is necessary to regularly replenish water because the amount of water lost is a lot. If you are not in the habit of drinking a lot of water, try a variety of drinks with tea, fresh milk or fruit juice.
>>> Related posts: How to Treat Acne Safely - Learn 9 popular acne treatment methods today. Which method will your acne condition be suitable for?
2. Foods that effectively moisturize from the inside for dry skin
Tomato
Tomatoes are a panacea for our skin. The super-powerful antioxidant component in tomatoes, called lycopene, has the ability to protect the skin from UV damage. Many studies show that eating tomatoes every day will help the skin increase its resistance to ultraviolet rays, prevent aging and dry skin. Therefore, do not forget to protect yourself from the sun with tomatoes by adding this fruit to your daily diet.
Avocado
Avocados contain high levels of omega-3, carotenoids that prevent inflammation, effectively prevent and treat acne, reduce the risk of skin destruction from deep within, help protect and retain moisture, and increase strength. skin resistance.
In particular, avocados contain a lot of vitamin E along with lutein, zeaxanthin, which have antioxidant effects, prevent skin aging, and protect the skin against the bad effects of ultraviolet rays. Eating avocado every day will help keep your skin healthy, naturally soft.
>>> Recommended articles: Where to spray beautiful lips - Choose the best lip beautifying method and address for you.
Vera
Aloe vera is a familiar beauty ingredient for women because it is rich in antioxidants, helps purify skin effectively and moisturizes very well for dry skin. In the summer, you should use aloe vera to make salads, jellies or as a regular cooling drink for the body.
Cucumber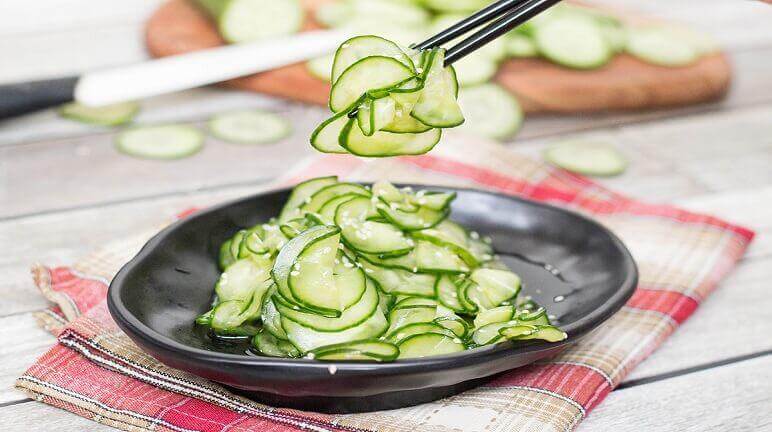 Cucumber contains a lot of water to help moisturize the skin; vitamins B, A, C help rejuvenate the skin; along with essential substances such as magnesium, phosphorus, iron, calcium, etc. to help keep the skin rosy and healthy. These wonderful natural nutrients also help to make the skin smooth, bright and soft from deep within.
Cucumbers are a year-round, cheap and versatile food, making them a great food for dry skin care. You can process this food into dishes such as salads, salads, eat it fresh or squeeze it into juice.
>>> Related posts: Rice Water Beauty Recipe - 3 recipes to beautify the skin with rice water.
Nuts
Nuts often contain a lot of vitamin E, which is a valuable essential nutrient that provides moisture to the skin, against the risk of skin aging, dry stretch marks. Increasing the addition of nuts such as sunflower seeds, chestnuts, walnuts, cashews, almonds ... is the perfect way to care for dry skin from the inside that you should choose.
You can roast nuts to eat as a snack, sprinkle on salads or make into nut milks.
Fish
Fish is rich in Omega-3s, which are essential nutrients for improving skin texture and reducing inflammation. Therefore, fish is also considered a food group capable of enhancing resistance, providing nutrients for healthy skin and anti-aging skin. Let's change the way of processing and variety of fish every day to make the meal less boring.
>>> Recommended articles: How to whiten face at home - 5 effective natural skin whitening mask recipes.
3. Functional foods
If you are a picky eater, you can moisturize and nourish the skin inside by adding vitamins, omegas, and minerals in the form of functional foods. But remember, choose quality products from reputable brands.
>>> Related posts: Choose the Fruit Mask That's Right For Each Skin Type - 6 fruit mask recipes suitable for different skin types.
In addition to drinking enough water and eating healthy foods, you should exercise regularly, have a moderate lifestyle and get enough sleep. To keep the body in a healthy condition, enhance the stimulation of skin regeneration, helping the skin to be more youthful. Wish you always have a smooth, healthy skin!
See more posts:
How To Prevent Skin Aging With Dry Skin
How To Take Care Of Dry Skin To Be Smooth
Mistakes That Make Your Skin Dryer
Any Questions Click Get Information Contact MissTram Spa