Acne Acne is the most severe form of acne in the family of acne, and once infected, it is very difficult to treat. This makes women lose confidence when going out. So the following sharing of Miss Tram - Natural Beauty Center will help you learn about how to treat acne under the chin Up to 90% efficiency!
Why do you have acne under your chin?
Cause of acne under chin is when the sebaceous glands located under the skin are deposited with sebum, accumulated dirt for a long time cannot be eliminated. If you have an endocrine disorder, this situation is even more serious. This creates an opportunity for bacteria to penetrate the hair follicles, creating inflammatory acne, cystic acne, swelling, and discomfort. The most common places where acne appears are the cheeks, chin, …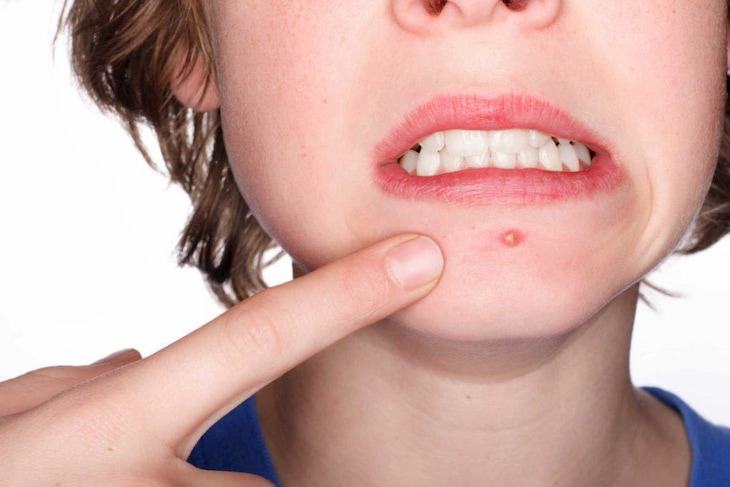 5 effective ways to treat acne under the chin
Cystic acne is a difficult type of acne to treat, but if detected early and treated properly, acne is no longer an obsession. First, use the natural ingredients below to treat acne under the chin effectively and economically.
1. Treat acne under the chin with turmeric and yogurt
Turmeric powder has antibacterial effect, acne treatment, very effective bruise treatment. 2-3 times a week, apply a mixture of turmeric powder with yogurt in a ratio of 1:1 to quickly dispel the acne on the chin area. This formula is also applicable to face skin with blackheads.
2. Treat acne under the chin with honey
Honey It is a folk remedy with many uses. Since ancient times, honey has been used to beautify the skin. With antibacterial and anti-inflammatory properties, honey is very effective in treating acne under the chin.
3. Treat acne under the chin with toothpaste
It seems that the use of toothpaste is only for brushing teeth, but it has a positive effect for this case of acne. First, you need to clean your face, then apply a little toothpaste on the acne and let it dry for 15-30 minutes. Then wash your face with cold water and gently pat dry with a soft towel. Apply this method 2-3 times / week you will see the effect of acne on the chin.
4. Treat acne on the chin with lemon and fresh milk
It is not too difficult to treat acne under the chin, you just need to use lemon in combination with fresh milk without sugar to treat acne very safely and effectively. Lemon helps to fight bacteria, prevent inflammation, and fresh milk helps your skin to be whiter and smoother. The method is very simple, squeeze ¼ of a lemon and mix it with fresh milk, mix the mixture together and apply it on your face. After 15-20 minutes, wash your face with cold water. Applying 2-3 times a week will give you satisfactory skin.
5. Treat acne with lettuce
Common lettuce you only know through dishes, on the other hand lettuce also has the use of supporting the treatment of acne very effectively. You can combine eating lettuce in your daily meals or you can puree it and apply it to the acne-affected chin area. Apply 2-3 times per week and you will see immediate results.
>>> Related posts: How to Get Acne Correctly - Guide to get the right acne, which acne should be taken, which acne should not be taken.
5 natural ways to treat acne under the chin at home hope that it will help those who are suffering from acne but do not know how to treat it effectively. If you have any questions regarding the problem of acne under the chin and how to treat it faster and more thoroughly, please contact us immediately. Miss Tram - Natural Beauty Center for a FREE consultation and consultation!
See More About News – Beauty Secrets By Miss Tram - Natural Beauty Center:
Causes and Treatment of Pimples on Cheeks