For women, skin care products such as sunscreen, mineral spray and oil blotting paper are always "unbreakable objects" on hot summer days. In particular, oil blotting paper is considered the most important item of girls with oily skin, because they help remove the shine and keep the skin dry all day long.
However, not everyone really understands the use of oil blotting paper and how to use it effectively. Because many customers have asked for help from Miss Tram with acne-prone skin, the main reason is the abuse of this skin care product. Therefore, Miss Tram - Natural Beauty Center We will show you how to use oil blotting paper in the most effective way.
The Secret To Using Absorbent Paper Correctly, Safely And Effectively For Oily Skin.
What Is Oil Blotting Paper?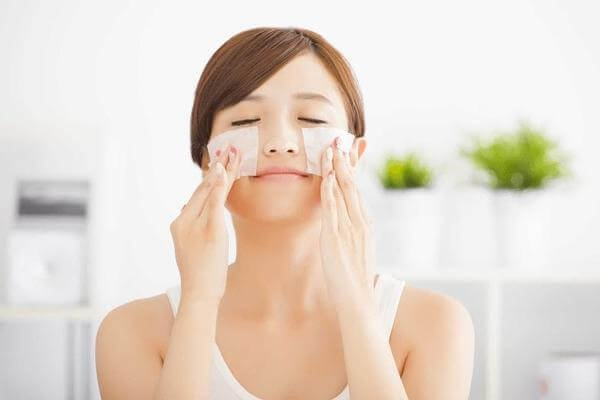 Oil blotting paper has an extremely thin and light texture because it is made of natural fibers of cellulose or man-made polymer fibers. With special oil absorption ability, oil blotting paper helps absorb excess oil on the skin extremely effectively and quickly.
With the development of industry, oil absorbent papers are added with many different additives to meet many purposes for customers to use. Some popular types of oil blotting paper: oil blotting paper for acne, oil blotting paper with makeup powder, oil blotting paper with moisturizing active ingredients, etc. Therefore, users need to pay attention to choosing oil blotting paper with suitable function. suit your skin and needs.
The Effect of Oil Blotting Paper
Everyone knows that the main effect of oil blotting paper is to absorb excess oil, but if used effectively, they bring a lot of specific benefits:
Removes excess oil from the skin, helping to unclog pores.

Control and limit oil secretion on the face.

Prevents the accumulation of dirt and bacteria on the skin, limiting the formation of acne.

Reduces the spread and growth of acne.

Keep the makeup layer not dull, tone down or due to being washed away by oil.
So Is Absorbent Paper Only Suitable For Oily Skin?
Of course, blotting paper is a product "born" for oily skin, but should other skin types be used? The answer is yes. However, depending on the skin condition and the degree of oiling, there is an effective density of oil blotting paper.
With oily skinOily skin has extremely strong oil glands, so the skin will easily become oily if in hot weather. If excess oil is produced too much, pores will become clogged, causing dirt accumulation and creating conditions for bacteria to form. Therefore, it is necessary to use oil blotting paper daily to regulate excess oil on the skin as quickly as possible.
For normal skin, combination skin: These skin types tend to shed less oil and only have shine at the end of the day. At this time, you can use oil-absorbing paper to dry the skin more.
With dry skin: Dry skin often lacks oil, so it is not recommended to use oil blotting paper. However, if your skin shows signs of abnormal shine, you can also use a gentle oil blotting paper to help the skin breathe better. But do not overdo it because the oil blotting paper will remove the natural oil layer, making the skin prone to many problems.
With acne skin, sensitive skin: You can use blotting paper if your skin is too oily. However, it should be stopped immediately if the skin shows abnormal signs (such as acne appearing more, skin redness, irritation, ...).
Guide to Choosing and Using Oil Absorbent Paper Effectively
To use oil blotting paper most effectively and safely for your skin, you need to make sure you choose a product with the most appropriate composition, ingredients, and uses.
There are two main product lines on the market: paper-based and film-based. In particular, the oil-absorbing film is more appreciated because it has the ability to absorb faster, does not dry the skin and does not affect the makeup. Although the price is high, but if your skin is sensitive or dry, the oil-infused film is a safe choice.
Besides, if you don't wear makeup, you should absolutely not use blotting papers containing powder, because they can irritate your skin.
Some notes when using oil blotting paper:
Always use gentle pressure by placing an absorbent paper between your middle and ring fingers, then dab it on the oily area for 3-5 seconds.

If using blotting paper for acne skin, you should only use an absorbent paper for one area, avoid moving to limit the spread of the acne area.

Do not overuse oil blotting paper. It is best to use it no more than 3 times a day to ensure that it does not affect the natural moisture of the skin.

Do not reuse oil blotting paper, because oil blotting paper after being used will be susceptible to bacteria attack. If used again, the skin will become infected.

After applying makeup, you can use oil blotting paper to gently dab on the skin to make the makeup last longer.
With hot summer days, oil blotting paper is always considered an extremely necessary "treasure" for oily skin. Therefore, make sure to choose the right product, the right use, and use the right oil blotting paper to get the best care for your skin.
Hope the above sharing of Miss Tram - Natural Beauty Center will be useful to you. Wish you always have a beautiful healthy skin!
Miss Tram Natural Beauty Center - Beauty but must be natural.
Miss Tram - Natural Beauty Center
Hotline: 1900 7018
Mobile: 0899 194 519
You are viewing the article How to Use Absorbent Paper Effectively For Oily Skin in a good forum News – Beauty Secrets of Miss Tram VietNam. All reviews, comments please send directly to the email address teamcrmmisstram@gmail.com.com or you can comment right below the article. Don't forget to follow other good articles of Miss Tram and share it with everyone.
Review Top Skin Care Products