Skin can only be beautiful when it has enough vitality and coconut oil It is one of the natural ingredients that can improve many skin problems. Vitamin E, Polyphenols and Lauric Acid in virgin coconut oil are ingredients that help you destroy free radicals, anti-aging.
The Best Secret To Whiten Face With Coconut Oil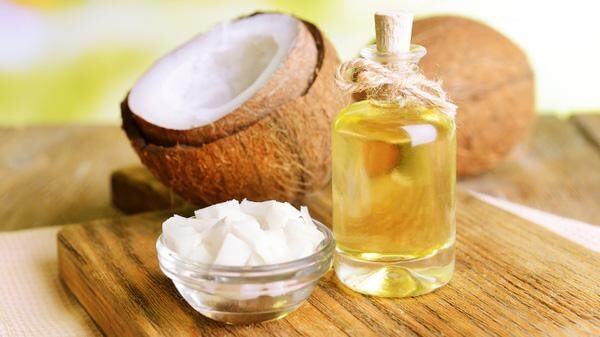 100% virgin coconut oil must be taken directly from the old whole fruit, without any chemical treatment, its composition will contain many beneficial nutrients for the body, including the skin.
Lauric Acid 47,5%, Myristic Acid 18,1%, Palmitic 8,8%, Caprylic 7,8%, Capric 6,7%, Stearic 2,6%, Caproic 0,5%, Linoleic Acid 1,6% , oleic acid 6,2%, Polyphenols, Vitamin E, Vitamin K and minerals such as Iron, Calcium, Magnesium are the substances that people find when carrying out the coconut oil accumulation.
Basically, they are needed for every vital activity of the body. In which Vitamin E, Polyphenols and lauric acid are three outstanding ingredients that can help maintain healthy, bright skin.
However, because coconut oil has a higher percentage of saturated fat than animal fat. Eating too much can lead to atherosclerosis. Therefore, the World Health Organization (WHO), the US Food and Drug Administration (FDA) and many other countries (UK, Canada ...) all recommend not to use this oil in meals. Eat daily to beautify skin.
Instead, you can make it into nourishing masks that protect the skin from the outside.
>>> Related Articles: Introduction Spa standard whitening treatment at Miss Tram.
Set of recipes for skin whitening masks with coconut oil
Coconut oil + yogurt
Organic active ingredients such as Vitamins B, A, C along with light amino acids found in yogurt can help the skin remove the dry outer layer of the epidermis. face skin. Thereby creating conditions for the nutrients of coconut oil and yogurt to penetrate to nourish the skin, effective anti-oxidant.
Formula: 1 tablespoon of unsweetened yogurt combined with 1 tablespoon of coconut oil. Wash your face thoroughly with warm water so that the nutrients can penetrate deeply, then apply this mixture evenly on the skin for about 10-15 minutes. Then rinse with warm water and cold water, respectively Shrink pores.
Do this mask recipe at least 3 times a week to get the best whitening effect.
>>> Related Articles: Recipes whiten skin with turmeric powder current standard.
Coconut oil + honey + egg yolk
Both coconut oil, honey and egg yolks contain many nutrients. If Water-soluble vitamins such as B1, B6, oil-soluble vitamins such as A, D, K and minerals such as iron, zinc, copper ... of chicken eggs promote the effect of lightening the skin, helping the skin to be elastic. The enzymes and fatty acids found in honey, coconut oil will continuously promote healthy skin cell production, improving uneven skin tone.
Therefore, the combined mask formula of these three types will help you not only brighten but also nourish your skin more healthy.
Formula: Prepare 1 egg yolk, 1 tablespoon coconut oil, 1 tablespoon honey, mix them all together. Before applying the mixture on your face, wash it with warm water. After applying the mask and relaxing for 30 minutes, wash it off with warm and cold water to unclog pores without being enlarged.
>>> Related posts: Recipes skin whitening with rice bran powder safest and most effective.
Nature gives us a lot of "medicine" to support us skin care healthy, and coconut oil is only a small part of it. So in your beauty care journey you can completely share with Miss Tram VietNam the kind of "medicine" that you often use to make us more and more beautiful.
See More About News – Beauty Secrets By Miss Tram - Natural Beauty Center:
How To Use Rose Water For Dry Skin
Effective Skin Whitening Formula From Beer