|Question – Answer| How to Treat Hidden Acne With High Effectiveness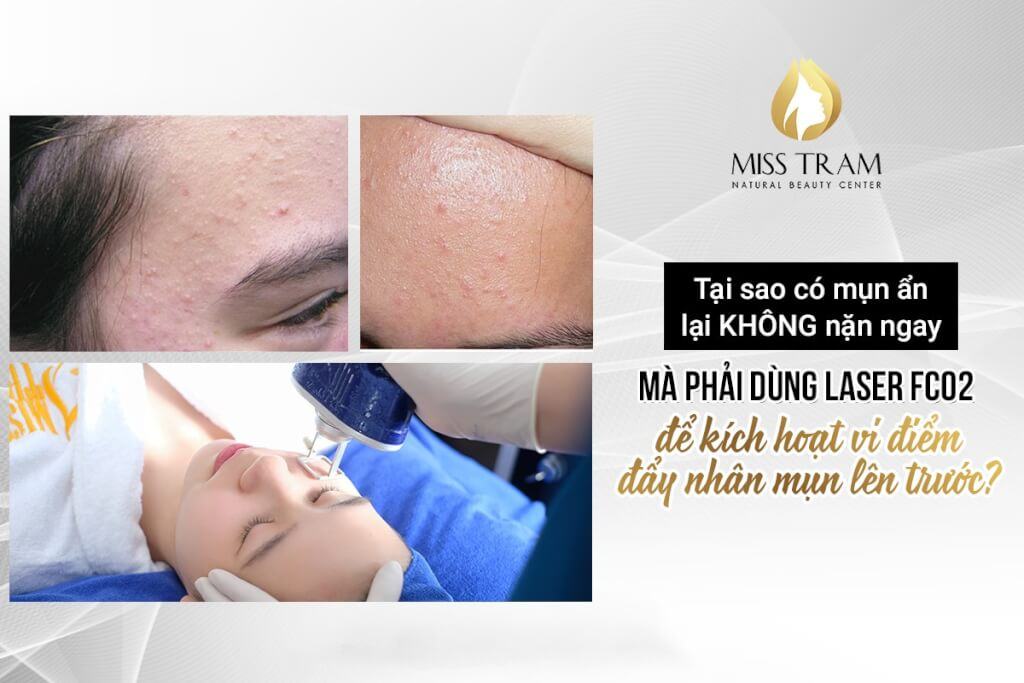 There are many reasons why we cannot stop squeezing acne every time we see them appear:
Feeling uncomfortable, entangled when touching acne.

Acne makes the face ugly and unsightly.

Bad habits are hard to break…
For hidden acne, the self-squeezing will be even more difficult and not thorough because the nature of hidden acne has a nucleus located deep in the hair follicle with a small size, only when they grow in large numbers can cause pain and facial skin becomes worse so we'll be able to detect it.
That's why customers who treat hidden acne at Miss Tram will not immediately squeeze but have to use FCO2 Laser to activate the micropoint to push the acne nucleus forward, gathering acne. Then proceed to remove the acne core to avoid leaving dark spots and pitted scars on the skin.
Some advantages of Fractional CO2 laser micropoint activation technology that Miss Tram wants you to understand and grasp:
Fractional CO2 laser micro-point activation technology is a technological breakthrough in the field of recovery and treatment of acne skin - pitted scars. With a wavelength of 10.600 nm, it is able to penetrate deep into the dermis without causing invasion of the surrounding healthy skin.
- Eliminate acne-causing bacteria, regulate sebum on the skin and antibacterial.
- CO2 laser helps stimulate collagen proliferation tissue to fill acne scars, while improving facial skin problems, helping skin firm, reduce dark spots, wrinkles, smoother and younger skin..
- Not only clear acne, dark spots but also help white and pink smooth skin, tighten pores and regenerate healthy bright skin.
– The level of acne recurrence is low and minimizes inflammatory acne when it comes back
In addition, in order to get the right judgment about the condition of acne skin, Miss Tram hopes that customers will arrange a time to go to the center to perform a skin examination. At that time, the specialist will base on your skin condition to have the most specific and appropriate treatment regimen to help you achieve high results.
---
Don't hesitate to call HOTLINE 1900 7018 for advice on all your questions about the service.
Spirulina treatment helps whiten smooth, tighten pores

Diamond Nano Thread Implants

CO2 detox mask for skin

Regenerate shiny skin with Salmon DNA Electrophoresis

Brightening skin with Activated Carbon Laser

Remove fat bags, wrinkles, slim face and body with Exilis technology

Skin rejuvenation, wrinkle reduction, V-line slimming with Hifu S + technology

Regulate sebum, whiten, remove skin toxins with bio-light technology

Acne Treatment with Fractional CO2 Laser + Exclusive Herbal Medicine Package Đông

Tattoo removal with Yag laser technology.
With Miss Tram - Natural Beauty Center Some Questions Answered Other:
Is there a way to completely treat acne
Can you eat squid ink if you eat dry tanned skin?
Red-Red Treated Eyebrows Which Ink Should I Choose For Sculpting