7 Simple Face Care For Men In Cold Season Mùa
Facial Skin Care Guide For Men In Cold Season
The dry climate in winter not only makes women worry, but men also have a lot of heartache. Because with an extremely simple care regimen, men's skin will quickly become dry and flaky due to frequent lack of moisture.
So how to provide adequate moisture to the skin in winter days without too many sophisticated skincare steps? Don't miss the next post of Miss Tram - Natural Beauty Center ok
1. Change cosmetics to suit the weather
Men often do not pay too much attention to the selection of skin care products. So it's not too surprising that many guys only use one line of cosmetics for a long year.
However, this puts the skin at risk of many potential problems. Because depending on the climate, the characteristics and needs of using cosmetics of the skin will change:
In the summer, the skin needs moisturizing lines with a light texture to limit congestion.

In winter, the skin needs more moisture, so creams with a thick texture will be the right choice.
Therefore, to enhance the effectiveness of skin care in winter, men need to choose skin care product lines that are more moisturizing and have a dense texture.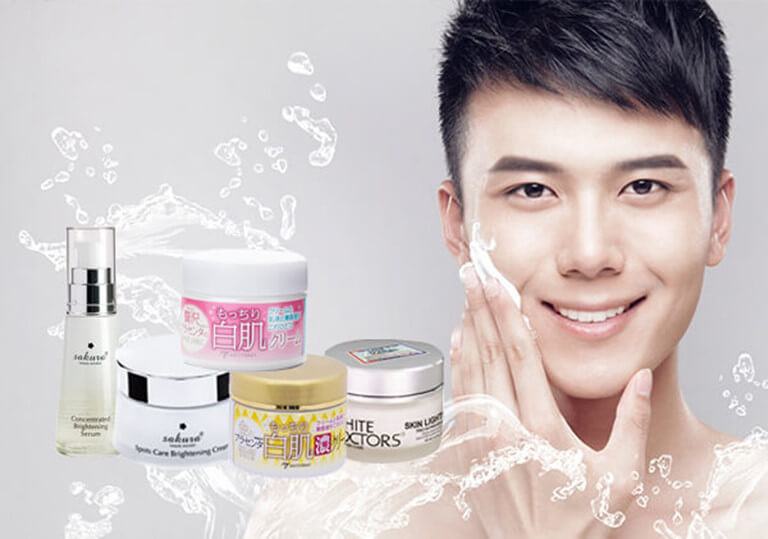 2. Maintain basic skin care steps
In addition to changing skin care products to suit the weather, men need to make sure to follow these basic skin care steps:
Wash your face
Use a face wash twice a day to ensure that the skin is always clear. Many guys think that in winter, the skin doesn't shed too much oil, so just washing your face at the end of the day is fine. However, due to physiological factors, men's testosterone levels are quite high, so in the evening, their skin secretes a lot of excess oil and toxins. If not thoroughly cleaned with a cleanser, this layer of sebum will accumulate and clog pores, thereby easily forming acne.
Moreover, Wash your face properly Morning is also a very effective way to awaken the senses in winter. So, make sure your skin is thoroughly cleansed morning and night.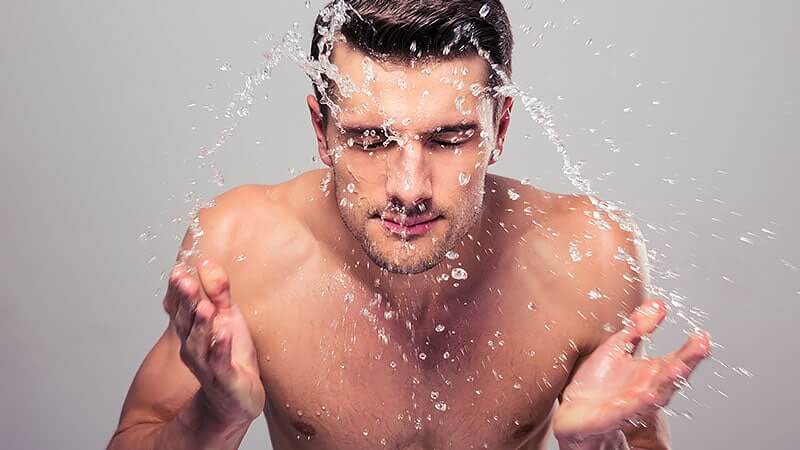 Moisturize
Moisturizing is always the most important skin care step in the dry weather in winter. Therefore, men need to always do this step in the morning and evening so that the skin is provided with the most adequate moisture.
Note, to ensure that moisturizing products maximize their benefits, you need to choose cosmetic lines that are suitable for your skin type. In addition, you should choose products that specialize in moisturizing (If the skin is having problems, you can use more serum/special treatment lines) so that the skin is supplied with the necessary moisture.
>>> Related posts: How to Whiten Face Skin For Men Extremely Effective - Learn the difference between men's and women's skin, share 3 ways to whiten skin suitable for men's skin.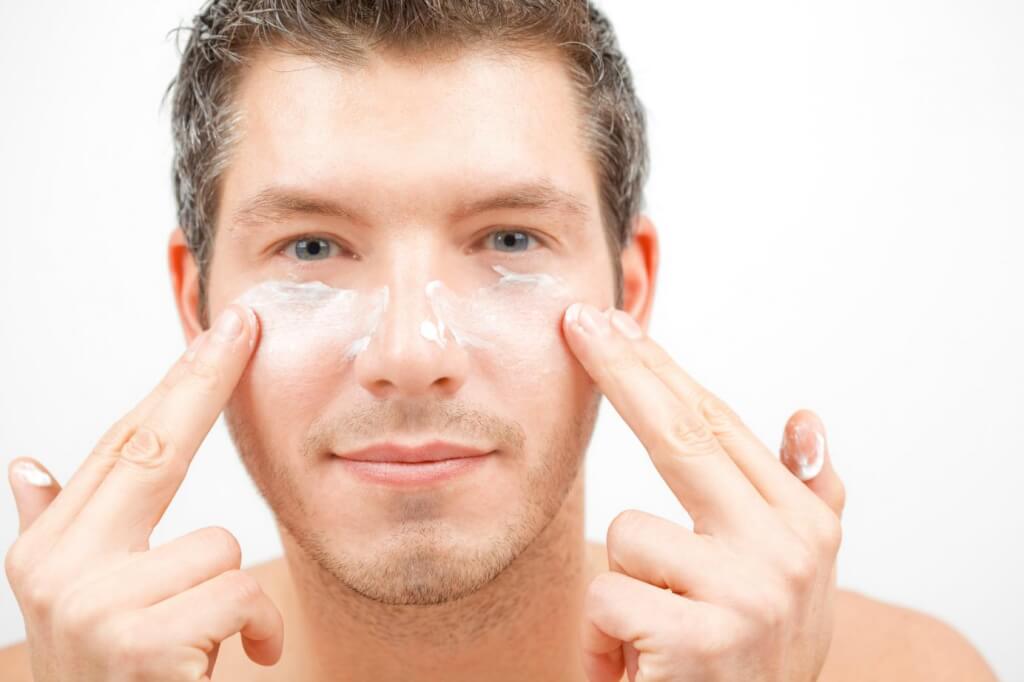 3. Avoid using hot water
Using hot water to shower is not only a common habit of men, but many people are also facing it. While providing a certain comfort, this habit makes the skin prone to dehydration and loses its natural moisture. Even the skin texture is more easily damaged, from which the skin will quickly appear signs of aging later.
Therefore, instead of using hot water, you should only use warm enough water to shower, wash or wash your face. Warm water will open up the pores, making the cleaning process more effective and does not affect the texture of the skin.
The most suitable temperature to use is from 38-40 degrees Celsius, if you are not confident with your insulation, invest in a thermometer. (especially when used for facial skin).
4. Don't forget to cover and protect your skin carefully
If you're concerned about future skin aging, invest in sunscreen products. Because regardless of summer or winter, UV rays are still present and cause negative effects on the skin, including making the skin drier.
Besides, always make sure to use protective products, especially masks in winter. Because the dry temperature will make the skin quickly lose water when out there.
>>> Related posts: Korean Men's Skin Beauty Secrets - 7 facial skin care steps that Korean men often do to keep their skin healthy.
5. Exfoliation is essential
Regular exfoliation helps remove stubborn dead skin layers and helps open pores. From there, the skin will absorb moisture and nutrients quickly.
Therefore, if you want the skincare process to be both simple and effective, men need to maintain exfoliating 1-2 times a week.
6. Replenish moisture with the right mask line
Although applying a mask is not a habit of men, but in order to effectively moisturize the skin in winter, this is a very necessary skin care step.
You should use specialized moisturizing masks such as paper masks, natural masks like avocado, olive oil, honey, fresh milk, etc. And the best time to do this skin care step is right after. Exfoliate dead cells.
>>> Related posts: The HOTTEST 10 Step Skincare Routine Today – It includes basic steps such as: Makeup remover – Facial cleanser – Exfoliating scrub – Toner/Lotion – Mask – Eye cream – Essence (Serum/ essence/ ampoule) – Treatment – Moisturizer - Sleeping mask.
7. Enhance moisturizing right from the inside
In order for the skin to be effectively moisturized, you need to increase their resistance right from the inside. Some habits that help increase moisture and skin resistance that men should pay attention to:
Drink enough water and limit alcohol:

Although water provides moisture and boosts metabolism for the body, alcohol causes the body to lose water and lose a large amount of vitamins. Therefore, men should pay attention to always add enough water to the body.

Eat more vegetables:

Winter weather will inevitably lead to hot, greasy dishes. However, you can balance them by adding more vegetables and fruits so as not to affect health and skin.

There are sports and sleep modes to ensure:

These habits cause the body and skin to be effectively detoxified, the skin is bright and smooth, not dehydrated, and visibly healthier.
When you have more healthy eating and living habits, the resistance of your body and skin increases. Since then, the skin is healthier, softer and always provided with enough moisture from the inside.
The above are the share of Miss Tram - Natural Beauty Center on skin care secrets for men on cold days. Although only with a basic skin care regimen, if you know how to use cosmetics and incorporate healthy living habits, your skin will always be healthy and smooth. Hope this article will be useful to you, wish you always own a beautiful healthy skin!
You are viewing the article Facial Skin Care Guide For Men In Cold Season in a good forum News – Beauty Secrets of Miss Tram VietNam. All reviews and comments, please send them directly to Email teamcrmmisstram@gmail.com or you can comment right below the article. Don't forget to follow other good articles of Miss Tram and share it with everyone.
Review Top Skin Care Products