Do you know how to effectively protect your skin when the air is polluted, fine dust? In recent days, the pollution index in large urban areas, especially in Hanoi and Ho Chi Minh City, has increased dramatically at an alarming rate. This has a huge impact on everyone's health. Not only that, the skin is the part that is directly exposed to the dusty environment, so there will be many serious problems if not properly cared for and protected.
So, how should we take care of our skin to "save" the skin from the effects of air pollution and fine dust? Let's find out through the following article of Miss Tram - Natural Beauty Center ok
Instructions on how to effectively protect skin when the air is polluted, fine dust Bụi
1. Actual situation of polluted air and fine dust in urban areas
According to statistics of AirVisual, the AQI air quality index in Hanoi and Ho Chi Minh City has increased very high in recent days, ranging from 150 to over 200 and is at a red alert level.
In particular, at peak hours, the densely covered layer of superfine PM2.5 dust has the ability to go deep into the body and blood vessels, causing many dangerous diseases such as lung disease, blood vessel blockage, stroke. brain diseases...
2. Effective skin protection solution in polluted days
How does air pollution affect the skin?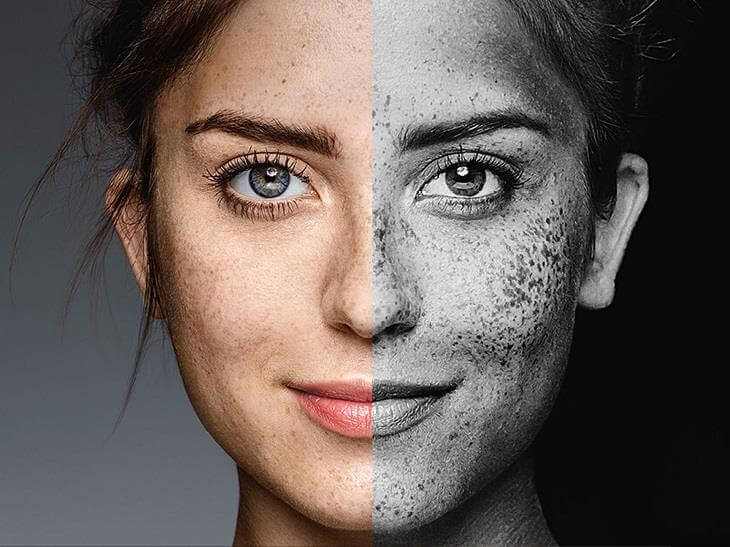 According to dermatologists, fine dust can penetrate and clog pores. They are absorbed into the skin, destroying the lipid layer and collagen natural on the skin. This makes the skin weaker, more sensitive and skin conditions such as allergies, acne, dark pigmentation, melasma, wrinkles will in turn form.
In particular, with sensitive skin such as the face, these negative effects have a great impact on skin health. And the most important thing, we cannot change the polluted environment, so without effective skin protection, care and detoxification methods, your facial skin will be seriously damaged.
So, how to protect the skin in days of heavy pollution?
Always wear a mask when going out. In particular, you should use a specialized mask, line a layer of tissue inside or wear multiple layers of masks.

Wash your face with water (shower is recommended) after every time you go out.

Do not exfoliate too many times because at this time, the thick horny layer can protect the skin from ultra-fine dust particles.

Drink lots of water and add lots of fresh fruits and vegetables to your daily menu.
How to effectively take care of and detox skin at home
Double makeup remover
For your normal skin care routine, simply choose a water-based or oil-based makeup remover. However, with today's air pollution, the combination of the two will help the skin clean more deeply than usual:
Oil-based makeup remover is capable of removing makeup such as sunscreen, foundation, lipstick or mascara.

Water-based makeup remover will help remove dirt on the face.
This combination doesn't dry out your skin at all, so rest assured to deep clean your skin. Note, you should choose products with natural extracts and suitable for sensitive skin Because on days when the air is too polluted, your skin will tend to be more sensitive than usual.
>>> Related Articles: Recipes Exfoliating from rice bran keeps the skin bright and smooth.
Sauna detox
Sauna skin detox is the use of heat from steam to open pores, helping to push out dirt and toxins from deep in the skin. In addition, the sauna also has the effect of stimulating collagen production and promoting blood circulation, making the skin rosy and youthful. This is one of the simple but effective facial detox methods.
Doing:
Step 1: Clean skin.
Step 2: Prepare steaming ingredients such as warm water, herbs, essential oils (can be changed depending on preference).
Step 3: Conduct steam: put your face 30cm away from the bowl of warm water, cover with a towel and steam for less than 10 minutes.
Step 4: Wash face with cool water.
In addition to herbs and essential oils, you can also use other steaming ingredients such as perilla and marjoram, lemongrass and lemon, and rose petals. And note, you should only steam from 1-2 times/week and should not be done for more than 10 minutes, because this will make the skin dehydrated and cause severe dryness.
Skin detox mask
Using a detox mask is a simple, time-saving and effective detox for the skin. On days with polluted air like this, you should use masks with ingredients from bamboo charcoal, clay, mineral mud, and sea salt to help detoxify your face.
On the market, these products come in many forms from effervescent, granular, cream to paper. Some masks are also added with more moisturizing, softening or acne-fighting ingredients – you can completely choose according to your preferences and needs. However, it is necessary to pay attention to the brand and origin of the product to ensure that the skin is detoxified in the safest and most effective way.
Anti-pollution support products
In recent years, cosmetic lines with Anti-Pollution ingredients are being preferred by dermatologists as well as beauty believers. These products often have outstanding effects in balancing moisture, anti-oxidants and help prevent dust pollution from affecting the skin effectively. Therefore, invest in skin care products with Anti-Pollution ingredients to limit harmful agents from the environment.
While home detox methods are effective, they cannot completely remove the "stickiness" of fine dust hidden deep in the skin cell layer. Therefore, the use of periodic skin detoxification procedures at prestigious spas and salons is the best choice in these days of heavy air pollution.
Effective skin detox solution at Spas - Beauty salons
A solution for the deepest, fastest and most effective skin detoxification that cannot be ignored CO2 therapy. According to dermatologists, skin care - detox with CO2 mask is a method to improve skin problems in a very effective way. By In addition to the ability to detoxify, the CO2 mask also helps to increase collagen production, regenerate damaged skin so that the skin is really healthy and beautiful from the inside.
>>> Related Articles: Learn about CO2 detox skin treatment Safest and most effective.
Outstanding advantages of CO2 skin detox packages at Miss Tram:
Completely remove dirt, bacteria as well as toxins deep inside the skin.

Improve all skin problems such as sensitive, lumpy, dark spots.

Increases skin circulation and metabolism.

Safe and gentle, no irritation on the skin.

Suitable for all skin types, especially skin with signs of dullness, large pores, loss of elasticity.
Applying the CO2 skin detox process at Miss Tram, you will notice many positive changes in your skin for the first time. If applicable about 5 times The pores are closed and the skin becomes smooth as desired. With about 10 courses The skin showing signs of aging will be unexpectedly improved, more youthful.
The above are the share of Miss Tram - Natural Beauty Center about Effective steps to detox skin when the air is polluted. You should regularly perform these methods every week to deep clean skin. In particular, on days of heavy pollution like this, you can choose the method of detoxification with a CO2 Mask to give your skin the deepest detoxification. Hope this article will be useful to you. Wish you always have a beautiful healthy skin!
See More About News – Beauty Secrets By Miss Tram - Natural Beauty Center:
Cases in which cosmetic tattooing should not be applied
The Most Effective Way To Treat Melasma At Home