It is a fact that men's pores are usually very large and secrete more oil than women. If you are a man who cares about your appearance, you can't let your pores get bigger and bigger. So, Miss Tram - Natural Beauty Center Bringing you guys some tips to help tighten pores exclusively for men at home. Please refer to this article below!
Share Effective Pore Tightening Tips For Men At Home
Just by changing your daily routine, you will see a great improvement in your skin condition, shrinking pores in men will no longer be a big problem, on the other hand it doesn't cost much. and time. Quickly help you achieve smooth, bright skin to be more attractive in the eyes of women.
1. Exfoliate 2-3 times/week
It's not only women who need to exfoliate, but "boys" should too! Because this method helps to remove the dead skin layer on the skin - the cause of clogged pores, not ventilation. In particular, men are often exposed to more dirt than women, so exfoliating 2-3 times a week is a basic and essential thing if you don't want the size of your pores to get bigger.
>>> Related article: Learn the method Tighten pores with a needle roller are being applied by many prestigious beauty spas today.
2. Sauna with essential oils
From ancient times until now, the steam bath method with hot water adding a few drops of lemongrass essential oil will help open the pores and follow the dirt away. You need to note that after you have finished steaming your face, you must wash your face with cold water to remove the layer of dirt and help close the pores.
3. Use toner (rose water)
After washing your face, you should use toner (also known as skin balancing water) to deep clean the skin one more time. The use of toner is to shrink pores, control oil and prevent inflammatory acne, antibacterial. The method is very simple, you just need to put a little toner on a cotton ball or cotton pad and gently wipe on the surface of the skin until the essence is absorbed into the skin. Do it daily to see the state of pores is significantly reduced!
4. Let's rebalance the diet
Men cannot avoid alcohol, stimulants such as beer, wine, coffee, ... but you can limit it as much as possible. To have a healthy, bright skin, boys need a nutritious diet, drink 2-3 liters of water a day, add lots of green vegetables and fruits rich in vitamins A, C, E has a strengthening effect collagen Effectively tightens pores.
5. Apply a clay mask
Of the thousands of skin cleansing products on the market, clay masks are always the first choice in the cycle Skincare Because of the uses such as detoxifying the skin, removing dirt, sebum, tightening pores and effectively treating acne.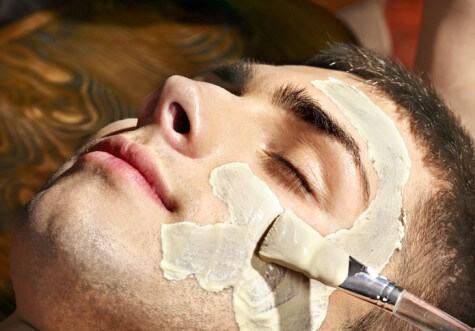 >>> Related Articles: Revealing the top Mask to treat dark spots, tighten pores from ingredients that are easy to find at home.
You can use some types of clay masks from aloe vera, green tea, oatmeal, activated charcoal, .. to treat the condition of large pores very well because these skin care ingredients help Anti-oxidant, acne treatment, dark spots. Using these skin beauty masks regularly will help keep the skin healthy, clean, smooth, reduce acne, fade dark spots and limit the formation of wrinkles.
You should remember that all external skin care measures, if you want to see results, require you to have patience. Therefore, you should be really serious and take care of your skin more. I wish you success!
See More About News – Beauty Secrets By Miss Tram - Natural Beauty Center:
Method of Tightening Pores For Oily Acne Skin
Red Bean Red Bean Treatment Mask How to Prepare