What do you know about neem powder the enemy of all types of acne? To anyone, acne always a very headache problem. Because they often appear very quickly, are difficult to remove and can leave many consequences on the skin if you do not know how Skin Care reasonable. Usually, many women will use a natural mask method to help remove acne. This is an effective method, but not everyone chooses the right ingredients.
If you're messing around with recipes Make a mask to treat acne with home ingredients, then today's post, Miss Tram - Natural Beauty Center Please introduce about Neem leaf powder the enemy of all types of acne.
Neem Leaf Powder The Striker Of All Types Of Acne
1. What is neem leaf?
Neem tree (also read as "Nim") is a drought tolerant plant, suitable for hot and dry climates, so it only lives in the tropics. Since ancient times, this plant has been cultivated and used a lot in India as a versatile herb. In Vietnam, wedges are also successfully grown and become a staple crop of Ninh Thuan province.
According to medicine, neem leaves have antibacterial, anti-fungal, anti-parasitic, anti-inflammatory, pain-relieving properties, so they can be used in the treatment and prevention of many diseases. Types of diseases neem leaves can support treatment include: diabetes; aches and pains; skin diseases such as acne, acne, sores, wrinkled skin, dry skin, psoriasis, dandruff, ... hepatitis; inflammatory diseases, stomach ulcers, constipation, etc.
>>> Related Articles: Reveal the Nutrients that need to be supplemented during the treatment of acne from top beauty experts.
2. Uses of neem leaf powder in beauty
Neem leaf powder It is usually made from dried nem leaves and is widely used all over the world. With convenience and very effective use in health care as well as thing acne treatment, neem leaf powder has gradually won the trust of many beauty followers. Miss Tram will review the main beauty uses:
Clear acne and anti-aging skin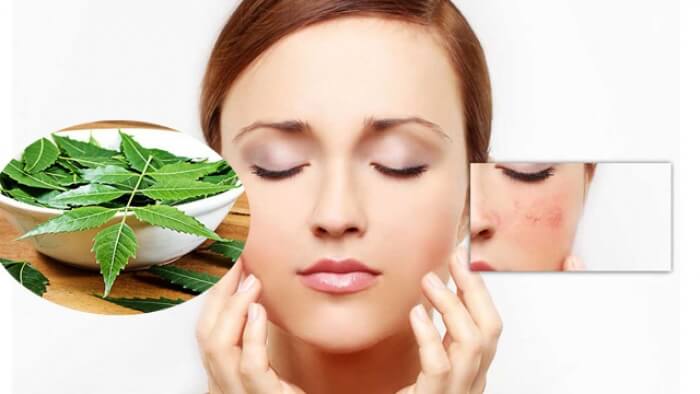 Neem powder has an aroma similar to green tea powder, but stronger and very bitter. The antibacterial and anti-inflammatory properties of nem leaf powder are also extremely high - 10 times higher than the green tea set. Therefore, this powder is very effective in clearing acne.
In addition, neem powder is rich in vitamin C. antioxidant compounds and immune-stimulating compounds that fight pathogens on the skin. So, using this powder in your regular skin care routine will help reverse the signs of aging very well.
Treatment of skin infections and allergies
One study showed that neem leaf powder has antifungal properties. Just mix a spoonful of neem powder with water and leave it in the fridge for a while. Then, use a cotton ball to apply the mixture on the skin to be treated. With its anti-inflammatory and pain-relieving properties, neem leaf powder will help soothe the skin and heal infected areas quickly by limiting the growth of bacteria.
Hair care
In addition to anti-fungal, anti-inflammatory, neem leaf powder has the effect of stimulating cell regeneration. Therefore, this powder is used as a natural remedy in cleaning and stimulating hair growth effectively. Just mix the Neem powder with coconut oil and incubate your hair for 30 minutes (or overnight if desired), then wash with a little mild shampoo, you will feel the difference right from the first wash.
3. How to use neem leaf powder to treat acne?
The most effective use of neem leaf powder is as a face mask. You can mix neem leaf powder with mineral water to make a mask and soothe acne-prone areas. As for common acne conditions, you should combine other ingredients to be more effective:
Acne mask with neem powder, rose water and lemon juice
Step 1: Mix 1 teaspoon of neem leaf powder, 1 teaspoon of rose water and a few drops of lemon juice (1/2 teaspoon is for oily skin and less if you have dry skin).

Step 2: Apply the mixture evenly on the face, gently massage for 2 minutes.

Step 3: Leave it on until the mask is almost completely dry (about 10-15 minutes) and then wash your face with clean water.
>>> Related Articles: Sharing experiences get rid of blackheads with clay mask extremely effective results from experienced skin care professionals,
Acne mask with neem powder and honey và
Step 1: Mix 2 tablespoons of neem powder and 2 tablespoons of pure honey.

Step 2: Apply the mixture evenly on the face, gently massage for 2 minutes.

Step 3: Relax for 20 minutes and then wash your face with clean water.
It is recommended to use these masks regularly 2-3 times a week to remove acne spots quickly. Neem leaf powder not only has the effect of treating acne but also has the ability to brighten the skin and prevent aging very well, so for those of you who do not have acne, do not ignore this versatile ingredient.
>>> Share good experiences: Tips Acne treatment with turmeric and honey Simple and effective at home.
In addition to applying face mask, you can also mix ½ teaspoon of neem leaf powder with warm water to drink daily (like green tea matcha powder, but much more bitter) to help keep skin healthy and beautiful, prevent diseases on gastritis, diabetes effectively. Some beauty believers also mix neem leaf powder with daily face wash to prevent and support acne, so you can also refer to this usage to see if it's effective.
The above are the share of Miss Tram - Natural Beauty Center about neem leaf powder and how to use it for acne skin effectively. This is an ingredient with very high anti-inflammatory and antibacterial properties, so it is able to prevent acne from developing, drying out acne quickly. In particular, neem leaf powder is extremely benign, so it is suitable for all skin types, so please feel free to get acquainted with them. Wish you always have a beautiful healthy skin!
See More About News – Beauty Secrets By Miss Tram - Natural Beauty Center:
Yes Or No Methods To Remove Melasma Quickly
Finding the Cause of Middle Aged Women appearing Freckles