Selenium, Potassium, Zinc, Magnesium, Iron and Copper are 6 essential trace minerals that help rejuvenate the skin. So when using oatmeal properly, your skin not only tightens but also limits aging.
How To Tighten Pores With Oatmeal
Many nutrients
Not in Vietnam, oats are a cereal food grown all year round in countries with temperate climates such as the US, Canada, Poland, Russia, Germany, Australia... If we want to use them, we have to import them.
Compared to other grains, oatmeal is considered to have a high nutritional value. In the analysis, it was found that for every 100g of whole grain oatmeal, there will be 5g of fiber, 348 Calories, 15g of Protein, 0,6 mg of Vitamin B1, 0,14 mg of Vitamin B2, 53 mg of Calcium and many mineral elements. Micronutrients Sodium, Potassium, Iron, Magnesium, Phosphorus, Zinc, Copper, Chromium, Manganese, Selenium.
In fact, the disorder of the sebaceous glands, makeup, acne, stress, sunlight, age, poor skin hygiene, etc. are the main causes of enlarged pores and poor skin tone. And some studies have shown that the magnesium in oatmeal can help prevent damage from these agents.
According to data from the Paris Prospective Study 2 cohort study published in the journal Epidemiology, magnesium plays a role in the synthesis of 300 metabolic reactions in the body, affects cell membrane stability, and protects cells. cells from heavy metals such as mercury and lead.
Therefore, when you use this cereal as food or as an ingredient to make a mask, all of them promote good body care and beauty benefits.
>>> Related Articles: Top Natural pore tightening mask Very effective, easy to use at home.
…. What are you waiting for without starting to create these masks right away
1. Oatmeal + lemon mask
Besides getting a rich source of nutrients from oatmeal, if combined with lemon juice you will get a mask containing a lot of Vitamin C, Citric Acid and some studies have shown that they have the ability to reduce wrinkles and even skin tone.
This is the model: Prepare 100g of oatmeal and 1 tablespoon of lemon juice. Before letting the two ingredients mix together, you should soak the oats in warm water to make it softer. Usually want to promote good efficiency tighten pores Put the mixture in the refrigerator for 15 minutes, then apply the mixture on your face and relax. 30 minutes is the amount of time it takes for nutrients to penetrate.
Finally, rinse with clean water to avoid residual substances on the skin that are counterproductive. With this type of mask you should only apply 2-3 times a week, because the acidity in lemon can make the skin thin if overused.
2. Oatmeal + Strawberry Mask
Thanks to containing Alpha hydroxy, an acid substance that has the effect of removing dead cells, helping new cells to grow fast and strong, the combination of strawberries and oatmeal will form a face mixture that both tightens pores, medium and medium. healthy skin care.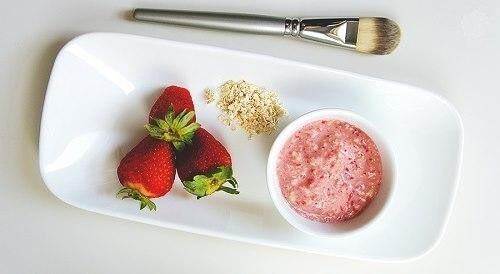 This is the model: Squeeze the juice of 4 strawberries and mix them with 100g of soaked oatmeal. According to the principle of hot expansion and cold contraction, put this mixture in the refrigerator for it to promote its ability to take care of the skin.
Before applying on your face, you need to wash your skin thoroughly with warm water. 30 minutes is the time required for the substances to penetrate, to remove the residue of the mask, wash your face with warm water again, then rinse with cold water to close the pores.
>>> Good article: Learn skin care experience from Korean women keeps the skin bright and smooth.
Use regularly to own smooth, youthful skin!
See More About News – Beauty Secrets By Miss Tram - Natural Beauty Center:
The Secret To Rejuvenating Skin By Natural Methods
Which Vitamin Will Help Your Skin Be Less Barren?