Why Should Oily Skin Be Moisturized? 3 Effective Natural Moisturizing Mask Recipes For Oily Skin
Secrets of Making Moisturizing Masks For Oily Skin From Nature
There is an old saying that "First and second skin" is not wrong. Owning a beautiful, white and smooth skin makes you many times more confident than those who have facial skin defects. With 4 moisturizing mask recipes for oily skin below, your skin will soon get rid of the uncomfortable greasy, oily secretion that often appears.
Why is it important to moisturize oily skin?
Why it is necessary to use a moisturizing mask for oily skin is a question asked by many women and needs an answer. Oily skin makes your face always feel wet and uncomfortable because the skin constantly secretes oily, shiny oil. Especially in the winter, the skin is prone to peeling and cracking.
This layer of skin, when it encounters the skin's oil glands, forms dirt, which accumulates for a long time on the skin, which will clog pores, prevent skin metabolism, and cause skin problems such as acne. Blackheads, acne develop non-stop.
Did you know that oily skin means that your face is severely dehydrated. Many of you do not believe it, but it is a fact that is clearly proven by science. It is possible that because you drink less water, you do not provide the necessary amount of water for the body, leading to stimulating the formation of the sebaceous glands.
Therefore, using a moisturizing mask for oily skin is extremely necessary, helping the skin to replenish moisture and maintain a balance for the skin in dry weather.
>>> Related posts: How to Choose the Right Acne Treatment – Learn 9 popular acne treatment methods today, the advantages and disadvantages of each specific method. Which acne treatment is right for you?
Some fresh natural masks from tubers and fruits not only provide vitamins to help regenerate the skin, but also deep clean, exfoliate and balance the hormones for the skin, helping the skin to be no longer shiny due to lack of oil. Overactive sebaceous glands. Here are some natural moisturizing masks for oily skin that you can make at home.
Top Moisturizing Masks For Oily Skin
Moisturizing mask for oily skin with turmeric and yogurt
For women with oily and acne-prone skin, a mixture of yogurt and turmeric essence will be the most suitable moisturizing mask. Turmeric powder has an effective support in balancing oiliness on the skin and tightening pores. Combined with sugar-free yogurt, it will help your skin fight inflammation, kill bacteria, clean pores and prevent acne-causing agents very effectively. You can also add a little honey to the mixture to balance the inherent moisture in your oily skin.
How to do the following:
Mix the mixture in the ratio of 1 tablespoon of unsweetened yogurt with 1 tablespoon of turmeric powder and a sufficient amount of honey. Then apply evenly on the face and lie down, rest, let the mask dry naturally for 1-15 minutes. Finally, wash your face to remove the moisturizing mask and wipe your face with a clean soft towel.
>>> Related posts: How To Treat Oily Skin With Natural Methods - 3 effective natural anti-oily formulas, safe for the skin.
Moisturizing mask for oily skin with aloe vera
Aloe vera is a natural mask that can be used every day because of its benign nature. Since ancient times, aloe vera has been known as a remedy to help clear body heat and effectively detoxify. With a rich content of vitamins, minerals, amino acids, enzymes, etc., aloe vera is also an extremely good beauty ingredient to help treat acne, hydrate the skin, and bring back a smooth and soft skin.
Doing:
You peel off the green outer skin, cut into thin rectangular slices. Then apply the oily part of the aloe vera leaf directly to the face. You lie down, wait about 15-20 minutes, then wash your face thoroughly with cool water.
>>> Related posts: Oily Skin Whitening Mask - 3 mask formulas that both help whiten skin and reduce oil effectively.
Tomato moisturizing mask for oily skin
Unlike other masks, tomatoes not only bring a feeling of comfort and freshness, but also contain many vitamins that support the acne treatment process for the skin. It helps to slow down the aging process, moisturize the skin, limit clogging pores to keep the skin soft and dry.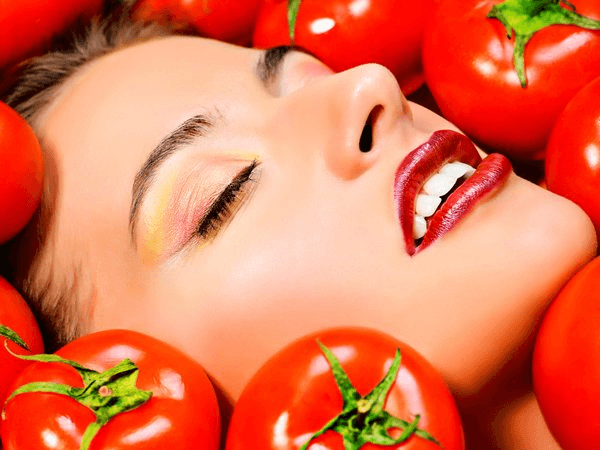 Doing:
You cut the tomato into thin slices (note the seeds). Then apply each slice to the face, wait for 15-20 minutes and then wash your face with cold water.
With the above moisturizing mask recipes for oily skin above, we hope to help you improve the condition of oily, shiny skin while still effectively nourishing the skin. Wish you have a bright white, smooth, acne-free skin as desired!
See More Articles News – Beauty Secrets Other Miss Tram - Natural Beauty Center:
How To Make Potato Yogurt Mask For Oily Skin
3 Kinds of Egg Masks for Oily Skin
5 Amazing Green Tea Masks For Oily Skin
Review Top Skin Care Products