Tomato mask very good for our skin, especially the use of making skin white and radiant. So do you know how to use this fruit to promote the highest beauty benefits? If you are wondering about this, please refer to the article below of Miss Tram - Natural Beauty Center Well, you're sure to find lots of tips!
Useful ingredients for skin in tomatoes
Tomatoes are one of the foods that are great for our skin. Science has proven, tomatoes are rich in lycopene - a powerful antioxidant, which helps protect the skin from UV rays, delay the skin aging process and protect from skin cancer. When using this fruit to take care of and beautify directly with the mask formula, we will be extremely surprised by its effective cooling effect on sunburn, tightening pores.
In addition, tomatoes also contain natural acids that help control the amount of oil on the skin, thereby killing bacteria that cause acne Acne, deep clean and tone the skin.
Here are some of the outstanding nutrients found in tomatoes:
Vitamin A: Fade dark spots, help rough skin regain its smoothness.

Vitamin B group: Slows down the aging process of the skin, fights free radicals that cause wrinkles and damage to healthy skin cells.

Vitamin C: Helps with synthesis collagen, maintain cell connections so that the skin retains its elasticity and tautness.

Calcium: Synthesize nutrients to nourish the top layer of the skin, heal rough, rough skin.

Potassium: Increases moisture in skin cells.

Magnesium: Brings youthfulness and radiance, slows down the aging process of the skin.
>>> Recommended articles: Fruit Mask For Oily Skin – Share some basic knowledge about fruit masks for oily skin such as: 7 mask recipes suitable for oily skin and how to apply fruit masks for maximum effectiveness.
Recipes for whitening face from tomatoes
If you want to fade dark spots and make your skin brighter, try these simple recipes with tomatoes:
Recipe 1: Fresh tomatoes and lemons
Both lemon and tomato have natural skin lightening properties, which help to even out skin tone as well as fade acne scars effectively. In particular, when combined with the astringent and antibacterial properties of lemon, this formula is sure to help you visibly improve your skin.
Ingredients to prepare:
1/2 ripe tomato

1/2 teaspoon lemon juice
Doing:
Puree tomatoes and mix well with fresh lemon juice into a mixture, then use a cotton ball or brush to apply this mixture on your face. Lie down and relax for 10-15 minutes and then wash your face with cold water. After applying the mask, you should apply olive oil or cream to moisturize the skin. For this formula to work, we can steam before applying, 1-2 times a week is best.
>>> Related posts: Fruit Mask For Dry Skin - 6 fruit mask recipes suitable for dry skin.
Recipe 2: Tomato and honey
If tomatoes bring the effect of reducing darkening, helping the skin to resist UV rays in the sun, honey, with its natural antibacterial properties, will help protect the skin from bacteria and germs as well as many other types of bacteria. other free radicals. To prepare a mask recipe containing many useful uses for the skin.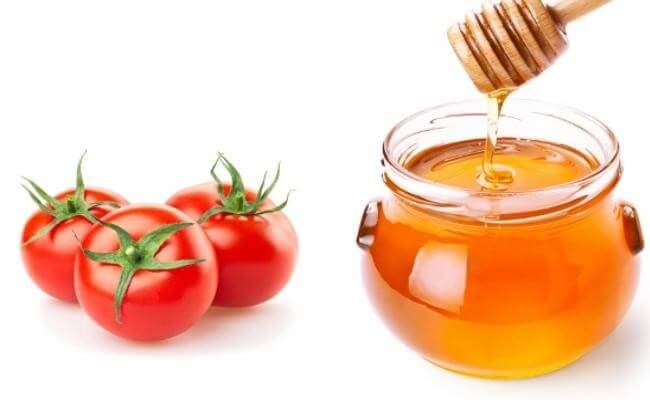 You need to prepare the following ingredients:
1/2 ripe tomato

1 teaspoon honey
Doing:
Tomatoes after grinding or crushing will mix well with honey and then apply on the face. After about 15 minutes of relaxation, you use cold water to wash your face, pat gently to dry the skin naturally. Note when applying this recipe, you must choose pure honey that does not contain sugar or other impurities, otherwise it is very easy to cause allergies to the skin.
>>> Related posts: Choose the Fruit Mask That's Right For Each Skin Type – You need to distinguish which skin type to be able to choose the most suitable fruit. The article will help you choose the right fruit for your skin.
Recipe 3: Tomatoes and cucumbers
As a gift rich in antioxidants, containing high moisture, cucumber is extremely effective when used to nourish and moisturize the skin. In addition, cucumber is also appreciated for its ability to lighten skin, fade dark spots, and quickly dislodge skin tones.
Combining tomatoes and cucumbers, you will have an effective hydrating mask that will safely help dry skin return to its smooth, youthful appearance.
Materials include:
1/2 ripe tomato

1/4 cucumber
Doing:
Peel and mash cucumbers along with ripe tomatoes. When applying this mixture on your face, you should combine massage in a circular motion. Apply the mask for about 15 minutes, then rinse with cold water and pat dry with a soft towel.
Wish you have a radiant pink and white skin as desired with tomato mask!
See More About News – Beauty Secrets By Miss Tram - Natural Beauty Center:
How to Apply Turmeric Mask for Best Results
Skin Care After Laser Treatment of Melasma, Freckles
Secrets of Care for Dry, Sensitive Skin
Review Top Skin Care Products