Mask potatoes with fresh milk, your skin will be replenished with moisture and vitamins to help regenerate skin, beautiful skin, brighten skin and prevent skin aging. Moreover, fresh milk potato mask is also one of the masks to help whiten skin and treat dark spots very effectively. Let's Miss Tram Natural Beauty Center Find out how to apply a mask to help your skin absorb the best nutrients!
The beauty effect of fresh milk potato mask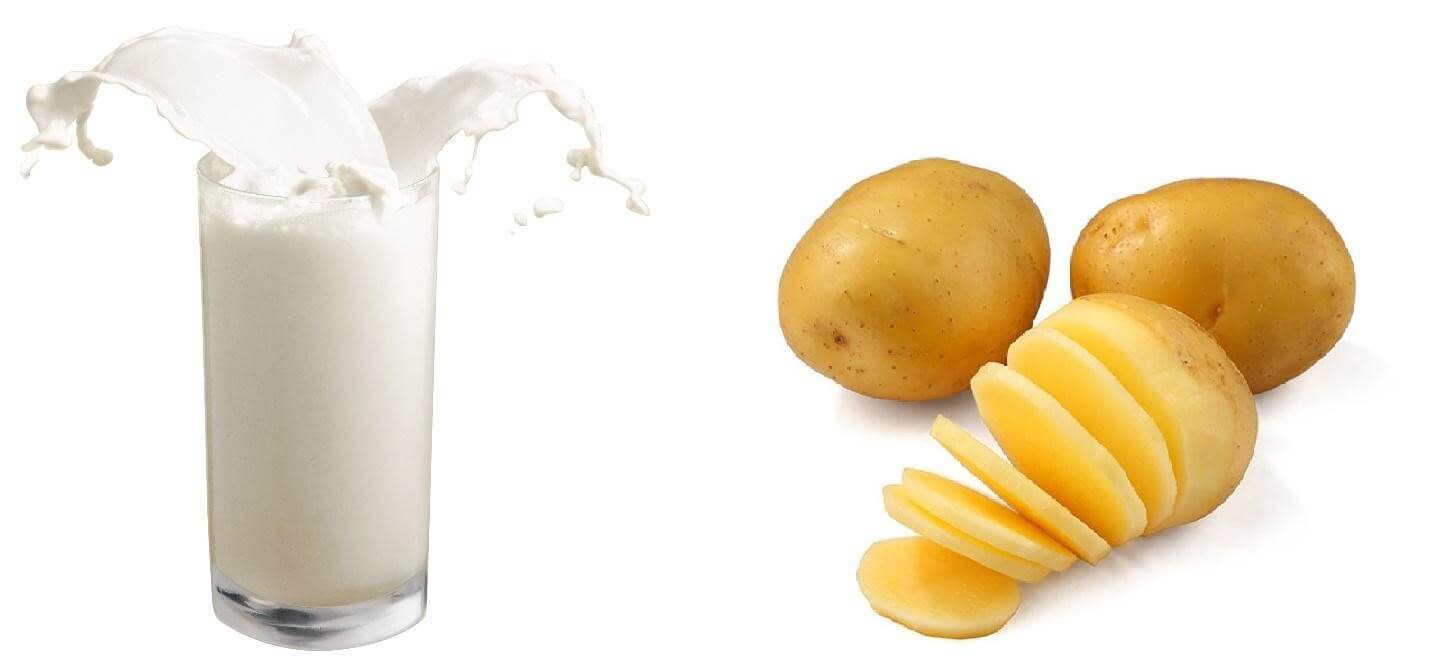 Potatoes and fresh milk are used as a type Natural skin care mask thanks to the ingredients that contain a lot of nutrients that are good for our girlfriend's skin.
Vitamin E, vitamin C and antioxidant nutrients in potatoes have the ability to help fight aging, regenerate skin, make skin more healthy, especially have the ability to whiten skin, and treat dark circles very effectively. fruit. Scientists have found in potatoes a large amount of beta-carotene - which is a substance with great anti-aging effects on the skin.
In addition, potatoes also help inhibit bad radicals, soothe the affected skin Acne, helps skin become brighter and healthier. Not only that, potatoes are also used as a skin care ingredient that helps to clean and remove dead skin cells. For skin damaged by sunlight and sea breeze, potato is the most effective natural soothing ingredient.
As for fresh milk, we cannot underestimate the ability of this ingredient. Fresh milk has a very good effect in moisturizing the skin, as well as helping to whiten the skin extremely effectively. For irritated skin, fresh milk helps to care and soothe the skin.
Both possess good ingredients, so when combined together, potatoes and fresh milk will become a good duo, helping to nourish healthy, bright skin every day.
>>> Related Articles: Anti-Aging Mask for Oily Skin – Learn the characteristics of oily skin and 3 effective anti-aging mask recipes suitable for oily skin.
Recipe for making fresh milk potato mask
To get a standard fresh milk potato skin mask, you need to follow these simple steps:
Prepare materials:
1 potato

¼ bag of fresh milk without sugar
Doing:
Boil the potatoes, peel and mash them finely.

Add fresh milk to the mashed potatoes and mix well to get a thick mask.

Cleanse face with cleanser and warm water or steam face to open pores.

Apply potato and fresh milk mask all over the face, relax for 15-20 minutes.

After this time, wash your face thoroughly with water. Be careful not to let the mask get too dry because it will be difficult to wash.

Finally, you can apply an oil-free moisturizer or fresh milk without sugar to massage your face.
With this formula, if you persist in doing it twice a week, after only 2 months, you will feel the difference, the skin will be white, smooth and improve wrinkles very effectively.
>>> Related posts: How to Make a Natural Face Mask for Acne - Learn about bran acne, the causes of bran acne, and 2 effective natural acne treatment recipes.
In addition to the familiar fresh milk potato mask, you can combine more honey (about 50ml) to create a perfect skin care mask from potatoes, fresh milk and honey. Pure honey is a natural material, does not contain harmful chemicals, so it is quite safe to use. Besides, it has great effects in treating acne and anti-aging skin effectively.
Try to immediately apply the secret of fresh milk potato mask Miss Tram - Natural Beauty Center Share here to own smooth, full of life skin!
See More About News – Beauty Secrets By Miss Tram - Natural Beauty Center:
The Most Effective Oatmeal Mask For Oily Skin
Whiten Face With Lettuce Is As Effective As Rumors
The Right Way To Take Care Of Oily Skin With Acne
Review Top Skin Care Products