Acne Scars , and bruise are the scariest sequelae that acne spots leave behind. These skin conditions are not only unsightly, but also affect the firmness and smoothness of the skin. However, these scars and dark spots can be quickly blown away if you know how to take care and treat them. Today's post, Miss Tram - Natural Beauty Center will show you how to use Vitamin C - a "panacea" to beautify the skin and fade acne scars and bruises effectively.
Mechanism of formation of scars and acne
Acne scars are usually concave scars formed by severe acne such as pustules, severe acne, acne left behind. Because these types of acne cause very serious damage to the skin. And in the self-healing process, that damaged skin will not be filled if the care regimen and nutritional source are not guaranteed.
Another cause of acne scarring is the improper squeezing process. If squeezing acne at the wrong time, not making sure to sterilize your hands before squeezing or squeezing too hard, all contribute to skin damage and easy scar formation.
Acne scars It is also a post-acne effect, but is milder than acne scarring. After the skin is damaged by acne, a new layer of skin will gradually be formed. However, this new layer of skin is very light sensitive and susceptible to UV rays. This will stimulate the appearance of melanin under the skin, making the skin black and darker than the surrounding skin.
The more severe the acne, the more new skin is formed, which means that the acne bruise is also heavier than the light acne spots.
>>> Related Articles: How to Treat Dark Scars Due to Acne - 7 recipes to treat dark scars left by acne, all recipes are from nature, easy to find, easy to buy, easy to make and easy to do at home.
Uses of vitamin C in skin care
Vitamin C is one of the most important vitamins for health and skin. Not only has the effect of increasing resistance, helping the body stay healthy, fighting disease, Vitamin C is also a very strong antioxidant that has anti-aging effects, helps to beautify the skin, limit diseases caused by degenerative diseases. In addition, it also has the ability to help prevent cancer.
So, how does vitamin C work for the skin?
Vitamin C is an antioxidant, prevents free radicals, and has the ability to stimulate production collagenHelps to slow down the skin aging process.

Vitamin C has the ability to fight inflammation, prevent acne, increase the possibility of wound formation and limit the scarring caused by acne.

Vitamin C aids in reducing the negative effects of UV exposure.

Vitamin C helps fade dark spots, acne scars, and makes skin smoother and healthier.
>>> Related posts: Skin care process after squeezing acne - Share the 5-step skin care process after squeezing acne to help your skin recover quickly, leaving no scars and bruises.
Scientific studies show that when used on the skin, vitamin C rapidly regenerates collagen and elastin fibers, supporting the healing of post-acne scars. At the same time, when used directly on the skin, vitamin C will penetrate deep under the skin and neutralize the abnormal melanin-producing factors that cause melasma. Therefore, vitamin C is applied very effectively in the treatment of melasma, dark spots, dark spots, acne scars and brightening skin.
How to use vitamin C to effectively fly away scars and dark spots?
Use serums rich in vitamin C
On the market today, there are many skin care products containing Vitamin C. But according to dermatologists, supplementing vitamin C with a serum is the best. Because Serum is an essence and an ingredient that focuses on Vitamin C at a high concentration (about 5%-20%), it provides fast, stable skin effects with little change. So, if you have a need to use vitamin C, you should choose a serum instead of a cream.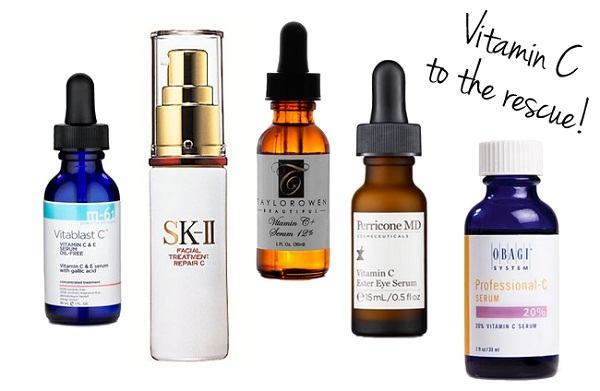 So what is the most effective way to use vitamin C serum?
Choose quality vitamin C serum products, belong to reputable brands and have clear origin.

Vitamin C is very easily oxidized when exposed to air, high temperature and light. Therefore, use it immediately after opening, keep the lid tightly closed and best store vitamin C in a cool place.

Vitamin C serum should be used after toner for best absorption.

It is recommended to use vitamin C serum in the morning because it enhances the protection of sunscreen.

If you have just started using this product, you should choose the serum with the lowest concentration to ensure the skin is best used to it.

Always use vitamin C serum every day to feel the change of skin. With newly formed scars and acne, the effect can be seen after 4-6 weeks. As for scars, long-term darkening, it is necessary to persevere for a long time to achieve the desired results.
Supplement vitamin C for the body from food sources
In addition to applying vitamin C on the skin, you need to regularly add vitamin sources from foods such as oranges, pineapples, strawberries, tomatoes, green vegetables ... Because this is the safest and most common source of vitamin C.
>>> Related posts: Food Slows Scar Healing Factors that directly affect the healing process of acne scars, foods slow down the healing process.
In addition, some other ways to supplement vitamin C for the skin are:
Vitamin C electrophoresis: The way to supplement vitamin C is very effective if you choose the right reputable cosmetic facilities.
Supplementing vitamin C with functional foods: This method is not recommended for use because this source of Vitamin is difficult for the body to absorb.
Mask: There are many masks containing Vitamin C on the market or you can also prioritize using masks such as tomatoes, strawberries, lemons – these are naturally rich in vitamin C.
So, Miss Tram - Natural Beauty Center shared about the use of Vitamin C - a "panacea" in skin care as well as quickly removing acne scars and dark spots. Add this active ingredient in your skin care routine as soon as possible for a smooth and even skin tone. Hope this article is useful to you. Wish you always have the most beautiful healthy skin!
See More About News – Beauty Secrets By Miss Tram - Natural Beauty Center:
The Safest And Most Effective Melasma Removal For Pregnant Women
Learn Korean Morning Anti-Aging Skin Care Steps