With the development of quality of life, men have more and more needs for skin care. However, the process skincare Men's skin is often not very effective because they do not really understand their skin. Even many male customers at Miss Tram also have quite serious skin problems due to using inappropriate cosmetics. So what skin care is suitable for each skin type? Don't miss the next post of Miss Tram - Natural Beauty Center .
The Secret To Men's Skin Care Effectively According To Each Skin Type
1. Dry skin
Men have lanes dry skin often have prominent features such as small pores, slightly rough and dry skin. Occasionally, the skin becomes flaky, cracked, and uncomfortable – this skin condition will become worse during the changing seasons or dry weather.
Dry skin is not only evident on the face but also appears on many other parts such as arms, calves, elbows, heels. This can cause a loss of aesthetics and confidence in men.
Causes of dry skin: Underactive sebaceous glands will cause the skin to lack oil - this factor may be genetic or due to a lack of vitamins and substances in the body. In addition, impacts from the environment, climate, UV rays or skincare routine Not being careful also makes the skin more and more dry.
How to take care of dry skin: In addition to the correct skincare steps, men need to pay attention to the following points to improve their skin condition:
Always drink plenty of water and pay attention to a diet rich in fresh fruits and vegetables.

Always moisturize twice morning and night and should use specialized moisturizing serum lines.

Skin cleansing products need to ensure that they have mild ingredients, clean but do not strip the skin's natural moisture.

It is recommended to use mineral spray daily to add moisture to the skin.

Suitable masks: sheet masks, avocado masks, fresh milk, honey, olive oil, vitamin E, etc.
>>> Related posts: Skin Care Process For Men Compare the difference between male and female skin. Standard 5-step daily skin care routine for men effectively.
2. Oily skin
Oily skin is skin that is always in a shiny, heavy and acne-prone skin. This skin type often has large pores, many blackheads and is prone to dullness when exposed to a lot of sunlight. However, oily skin has the advantage that the aging process is slow and wrinkles are more difficult to appear than other skin types.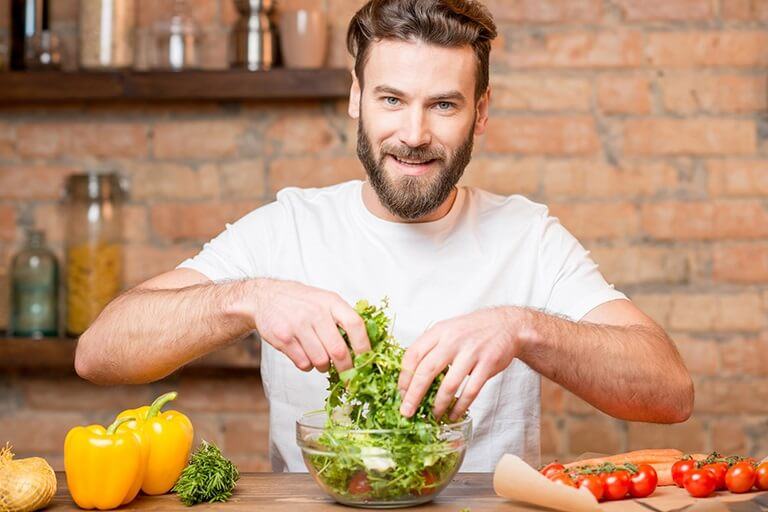 Causes of oily skin: In addition to genetic factors, male skin can become more and more oily due to external factors such as weather, temperature, and an imbalanced diet. These negative effects from the inside out cause the stimulated oil glands to work harder and pour more oil.
How to care for oily skin: To effectively care for the skin and regulate excess oil, men should note the following points:
Wash your face with cleanser 2 times a day + wash your face with clean water about 2-3 times in the middle of the day when there are signs of oily skin.

Oil blotting paper can be used 3-4 times to remove excess oil "quickly".

Should set up a healthy diet, avoid hot spicy foods, greasy. Especially in the summer.

Limit alcohol and tobacco.

Use suitable skin care products that do not contain too much alcohol, fragrance, etc.

Regularly use a mask when going out and clean bedding regularly to prevent the risk of acne.
>>> Related posts: How to Beautify Facial Skin For Men - 08 things to do every day for men to help improve the freshness, brightness, and health of your skin at its best.
3. Normal skin
Normal skin is the dream skin of most women to men. Not only does it always have the perfect ratio of moisture to oil, the skin is usually quite healthy and has a high ability to recover - regenerate. As a result, this skin is very smooth, with few defects and difficult to appear skin conditions such as acne, melasma, dullness,...
Although it is perfect, but if men do not have a careful skin care and protection regime, this skin will also quickly appear lesions such as oily or dry skin. Because there are many negative effects that are always lurking such as: environment, sunlight, dust, stress, natural aging, etc.
Normal skin care:
Always ensure 3 basic skincare steps: cleansing - moisturizing - sun protection.

Regularly exfoliate and apply a mask twice a week to replenish nutrients for the skin.

Provide enough water for the body.

Increase foods rich in vitamins from fresh vegetables, tubers and fruits.

Have a healthy lifestyle, avoid staying up late too often.
>>> Recommended articles: How To Take Care Of Your Face After Squeezing Acne After squeezing acne, the skin needs to apply special care, otherwise it is easy to get infected, leaving dark spots and pitted scars. So what are the care steps like? The article will note some skin care issues after taking acne cores that you should refer to.
4. Combination skin
Combination skin causes a lot of discomfort for men, because they converge on both extremes: oily shine in the T-section (forehead - nose - chin) and dryness on the cheeks. This skin condition is very difficult to care for as well as choose the right skin care lines.
In particular, in the summer, the greasy condition will make the combination skin prone to acne, hidden acne, and blackheads. Winter makes this skin dry and uncomfortable.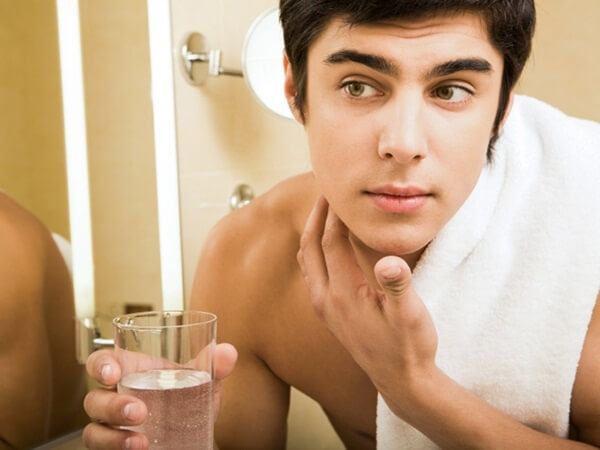 Causes of combination skin: Combination skin is often formed due to genetic factors. In addition, improper skin care regimen and use of cosmetics also make this skin condition more and more complicated. Oily skin will produce more oil, while dry skin will be drier).
How to take care of combination skin: With this skin, men should choose a combination of moisturizing from the inside and gentle oil control from the outside:
Establish a healthy diet, prioritizing foods containing fatty acids such as salmon, walnuts, almonds, flax seeds, etc.

Always provide enough water for the body.

Follow the basic skin care steps: clean - moisturize - sunscreen.

Pay attention to cleaning the T-zone, but make sure to apply gentle pressure and use gentle products that do not strip the skin of its natural moisture.

Exercise regularly to enhance blood circulation, effectively balance moisture and oil on the skin.
Men's skin, just like women's, has many skin types and needs to be cared for with a separate regimen. Therefore, men need to understand their skin type to choose the right skin care products as well as set up the right skincare steps. Hope the sharing of Miss Tram - Natural Beauty Center will be useful to you. If you have any questions or problems on your skin, please contact Miss Tram for the fastest advice!
You are viewing the article The Secret To Men's Skin Care Effectively According To Each Skin Type in a good forum News – Beauty Secrets of Miss Tram VietNam. All reviews and comments, please send them directly to Email teamcrmmisstram@gmail.com or you can comment right below the article. Don't forget to follow other good articles of Miss Tram and share it with everyone.