If you are a beauty believer, then everyone knows the great uses of vitamin C for the skin. From serious problems like acne, dark spots, melasma, freckles To skin lacking elasticity, dull, lifeless, vitamin C can be effectively solved if used correctly. However, this active ingredient has a weak point of being prone to oxidation and is not too suitable for all skin types.
Therefore, if your skin is not too "harmonious" with vitamin C, please refer to the alternative ingredients through the following article of Miss Tram - Natural Beauty Center ok
Effective Vitamin C Alternative Skincare Ingredients
1. Niacinamide
For girls with skin that is irritated with vitamin C, niacinamides perhaps a perfect alternative.
Also with the same effects as vitamin C, niacinamide has the ability to improve problems such as: Dull skin, dark spots, aging skin or acne problems. Not only that, this active ingredient also has sunscreen and protects the skin against environmental damage quite well.
In particular, niacinamide also has an advantage over vitamin C that is less likely to interact and conflict with other skin care ingredients. Therefore, the possibility of skin irritation of this active ingredient is also greatly minimized.
However, if you intend to use niacinamide, you also need to start with products with low concentrations (about 10%). This makes the skin easy to get used to, quickly adapt and minimize the occurrence of irritation.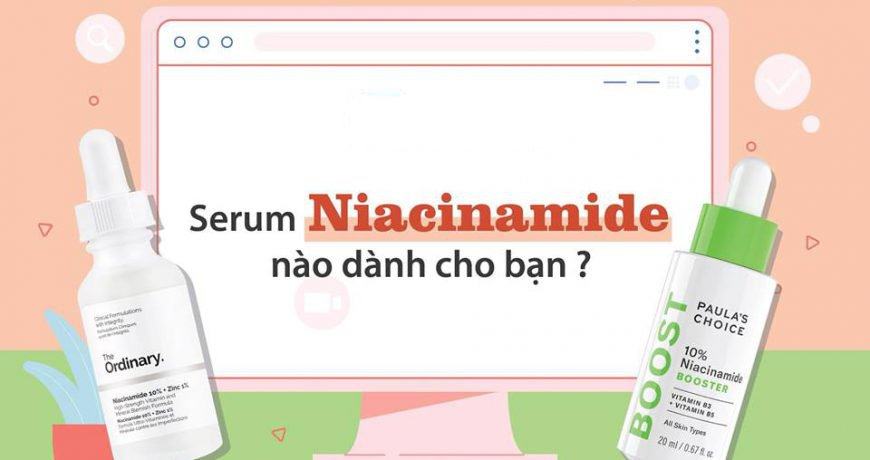 >>> Related Articles: Ingredients that cause skin aging in cosmetics What is now? - List immediately the most common damaging and aging ingredients in cosmetics.
2. Viniferine
Known to be extracted from grape sap, viniferine has the effect of whitening the skin, fading dark spots and supporting remove acne scars very good. Although it does not bring many anti-aging and acne-fighting benefits like vitamin C, in terms of skin care, viniferine is more appreciated by experts than this versatile active ingredient.
Of course, in terms of "benign", viniferine is suitable for most skin types. Therefore, this is a great choice if your skin is sensitive.
3. Indian Ginseng - Indian ginseng
If vitamin C is famous for its good sun protection, then Indian Ginseng - Indian ginseng is recommended by experts because of its use Protect skin from blue light. Thanks to this wonderful use, Indian Ginseng can prevent signs of dull skin, freckles, laxity and hyperpigmentation conditions very well.
Not only that, this active ingredient is also a factor that accelerates the skin's recovery process, making the skin firmer and smoother. Therefore, if your work environment is exposed to a lot of electronic devices, then Indian Ginseng is a perfect choice instead of choosing vitamin C.
>>> Share good tips: Skin whitening routine in 7 days - Quickly update the skin care and whitening steps to bring the most optimal results.
4. Alpha Arbutin
Also capable of lightening skin, removing dark spots and adjusting skin tone as effectively as vitamin C, but Alpha Arbutin has gentle properties, safe for most skin. Therefore, the active ingredient is much less likely to cause irritation.
So, if you're looking for a whitening and even-toning ingredient for sensitive skin, Alpha Arbutin is probably a much safer choice than vitamin C.
5. Carotenoids
Although in the world skin care cosmeticsCarotenoids are quite new to many people. But for dermatologists, this active ingredient is a great solution when looking to replace vitamin C.
Not only is it possible Skin lightening, anti-inflammatory and anti-oxidant for skin effective, Carotenoids It also protects the skin very well against the harmful effects of UV rays (This is the reason this active ingredient is widely used in sunscreen cosmetics).
In particular, carotenoids work quite stably, have fewer side effects and are easier to store than vitamin C. Therefore, this is an ideal substitute for vitamin C.
6. Flavonoids
Flavonoids Highly prized for its powerful antioxidant properties. According to research, the antioxidant capacity of Flavonoids is 25 times stronger than vitamin E and more than 100 times stronger than vitamin C. Besides, this active ingredient also has other uses. Anti-inflammatory, antibacterial and UV protection extremely effective.
Therefore, for skin with problems such as acne, melasma, freckles and easily irritated with vitamin C, Flavonoid is a perfect suggestion.
>>> Good experience to watch: Korean women's skin care Skin care secrets are extremely simple but bring the most effective.
Vitamin C is considered one of the most versatile skin care ingredients today, with many great uses such as: whitening, preventing acne, anti-aging and protecting skin against the effects of UV rays. However, due to its strong properties, for sensitive skin, vitamin C does not bring absolute safety to the skin. So, the 6 ingredients that Miss Tram - Natural Beauty Center just shared above will be safe alternatives for you.
Hope the above sharing will be useful to you. Wish you always have a beautiful healthy skin!
You are viewing the article 6 Effective Vitamin C Alternative Skincare Ingredients in a good forum News – Beauty Secrets of Miss Tram VietNam. All reviews and comments, please send them directly to Email teamcrmmisstram@gmail.com or you can comment right below the article. Don't forget to follow other good articles of Miss Tram and share it with everyone.
Article Summary

6 Effective Vitamin C Alternative Skincare Ingredients

Niacinamide

Viniferine

Indian Ginseng

Alpha Arbutin

Carotenoids

Flavonoids