How to eat properly to be healthy and can anti-aging? The following article will reveal to you some great nutritional foods that have anti-aging effects!
Aging is inherently a problem for all women, and staying young and beautiful over time is always the burning dream of most women. That dream can be within reach if you know how to use the types anti aging food the list!
Great Anti-Aging Skin Foods For Women
In fact, the aging process really begins after the age of 25, but most of us are indifferent to it. When the signs of aging such as wrinkles, pigmentation, sagging skin, etc. appear clearly, we panic and find ways to save our skin.
Many people have looked to beauty technologies or expensive cosmetics to regain their youthful skin, but the cost of these beauty treatments is really out of reach for many people.
To have beautiful skin, you not only need to add nutrients to the skin, but also have to nourish healthy skin from the inside. From now on, add to your menu effective anti-aging foods to save your skin before it's too late.
Some natural foods with anti-aging effects can be mentioned as follows:

>>> Related posts: Natural Anti-Aging Eye Mask Effectively The skin around the eyes is inherently vulnerable skin, but is not given proper attention. Therefore, this skin area is very susceptible to aging with many problems such as dark circles, crow's feet, puffiness, etc. To improve this situation, try using some of these natural masks.
1/ Green tea
Green tea is always at the top of anti-aging foods because green tea contains antioxidants that prevent the formation of free radicals, thereby effectively anti-aging. In addition, green tea also has many benefits for the body such as supporting weight loss, improving the cardiovascular system and fighting cancer.
2/ Dark Chocolate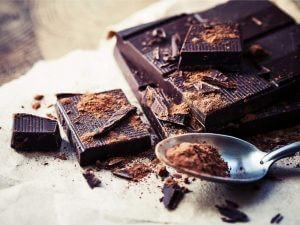 This is also considered a great anti-aging food. Dark chocolate is rich in flavanols. Flavanol helps protect cells, prevent aging from within, prevent cardiovascular disease, cancer. In addition, flavanods also help fight the harmful effects of UV rays (ultraviolet rays) - the main culprits of aging and skin cancer.
Not only that, chocolate also has magnesium and many minerals that have the ability to effectively reduce stress. As a result, helping you to be more comfortable and optimistic, you will be younger and more radiant.
3/ Garlic
Not only helps the dishes taste delicious, garlic is also known to be an effective anti-aging substance. Garlic contains allicin, a substance that has antioxidant properties, reduces wrinkles and prevents aging on the skin. You should eat raw garlic to promote the best effect for the body.
Garlic also contains vitamins B1 and B2 that help convert sugars and fats Protein increases resistance and keeps the skin healthy and beautiful.
>>> Related posts: Anti-Aging Food For Men – Since our diet cannot emphasize one group of substances and ignore the other, suggestions for foods that can help this anti-aging gentleman will be divided into two main groups: one are animals, and the other group certainly belongs to plants.
4/ Sesame
Sesame seeds provide you with just the right amount of zinc. Zinc is important for maintaining healthy skin and hair. Zinc has the effect of regulating the amount of oil, helping the facial skin to reduce the greasy phenomenon that causes poor copper aesthetics and effectively reduce acne. Furthermore, zinc helps to form collagen It should help fight wrinkles, enhance anti-aging.
5/ Butter
It would be a waste if we omit avocado in our daily menu, because this is a healthy fruit that has great skin-beautifying and anti-aging benefits. Avocados are rich in carotenoids, which help protect the skin from sun damage.
In addition, this fruit is also high in D-mannoheptulose – a unique chemical that is said to stimulate strong collagen production, thereby helping to keep skin youthful and nourish healthy skin from within.
Choosing anti-aging foods in daily meals plays an important role in the beauty work of every woman. However, to keep your youth, in addition to eating right, you need to take care of your skin properly, get enough sleep, and keep your spirits up.
In addition to adding beneficial foods, you should also regularly provide nutrients to the skin. In case the skin is severely aging with a series of manifestations such as: sagging, wrinkles, dark circles, melasma, ... then you should rely on beauty technologies to overcome this problem. Currently, HiFu S + technology is considered an effective and safe skin rejuvenation technology, however, not many cosmetic facilities can provide this technology.
>>> Recommended articles: Preparation of Green Tea Detox Mask - 3 mask recipes from green tea not only help the skin detox effectively, but also balance moisture, help circulate blood circulation to the skin to keep your skin full of vitality.
To learn more about HiFu S+, you can contact Miss Tram - Natural Beauty Center, the leading estheticians here will answer your questions and provide you with useful information.
See More About News – Beauty Secrets By Miss Tram - Natural Beauty Center:
Japanese Standard New Technology Eyelash Extensions