"Old" is one of the biggest fears of most women. Therefore, many girls have invested a lot in the Anti-aging products or functional foods. However, the process of preventing aging is only really effective when you use the right products, do it right, and combine the effects of care from the inside out.
In particular, there are extremely important anti-aging principles for the skin that just ignore, your skin will quickly age. And Miss Tram - Natural Beauty Center find out.
The Important Anti-Aging Golden Rule Shouldn't Be "Ignored"
1. Clean skin thoroughly
Cleansing the skin is always rated as the most important step in Basic skincare steps wait. Why? Because when not removing makeup and cleaning thoroughly (especially at night before sleeping), then surely dirt, bacteria and cosmetic residue will cause a series of problems on the skin.
When the skin appears acne problems, the sebaceous glands work erratically, the skin structure is also negatively affected. As a result, the skin will be less elastic and quickly show signs of aging. So, no matter how tired or busy you are, don't forget to clean and remove makeup for your skin thoroughly every night.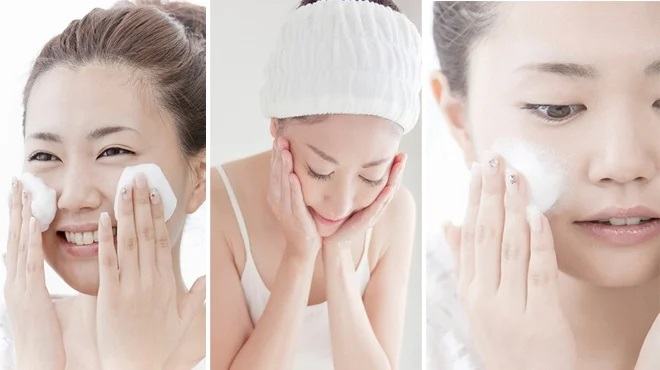 Thoroughly clean your face
>>> Related posts: Spa Standard Anti-Aging Skin Care – How to prevent skin from aging, or how to fight skin aging is not only a question of women anymore, but the brothers are also very interested in this issue. Because beauty is one of the standards that is to have beautiful, healthy skin without aging. The article is the experience shared by beauty experts at the spa.
2. Be careful when removing eye makeup
The importance of the makeup removal process, we no longer have to argue. But don't because they are important, do the steps to remove makeup - clean in a "too aggressive" way. Because being too strong will make your skin quickly sag and lose elasticity later.
In particular, in the eye area, many people have a habit of applying a strong makeup remover to quickly remove stubborn eyeliner and mascara. However, this area of ​​the skin is quite fragile and sensitive, having a strong impact every day will cause them to sag, sag and pull wrinkles quickly.
Pay attention to the step of removing eye makeup
Therefore, to minimize the impact on the eye area when removing makeup, you should note:
Use a cotton pad to remove makeup and soak it in the makeup remover solution (don't use too little).

Gently apply to the eye area for 15-30 seconds.
In this way, the oil in the makeup remover will break the bonds in cosmetics (eyeliner, mascara). From there, you can clean them gently without having to push hard on the skin. You can read more in the article Top Notes When Removing Makeup to ensure a healthy skin.

3. Massage properly after applying lotion
In order for the cream to be absorbed into the skin, massage is essential. But does everyone know how to massage properly? The force and direction of massage are extremely important - they will determine the "success - failure" of this skin care step:
Facial massage properly
Firstly, always massage gently: just enough impact will make the skin warm, stimulate blood circulation, open pores and absorb nutrients from the cream in the most effective way.

Second, always massage in the direction from bottom to top: this massage direction will support facial lifting, firming skin and preventing sagging.

Third, always massage in the direction from the inside to the outside: this massage direction will help the skin become smoother and less sagging.
Therefore, pay more attention to the process of massaging the skin. If done regularly and properly, your skin will certainly be youthful for a long time. Refer Asahi massage method of the Japanese.

>>> Related posts: Signs of Premature Aging Skin Shouldn't Be Ignored In fact, aging takes place throughout the body, but the skin is often the most obvious part that you can observe with the naked eye. Refer to timely detect signs of aging and know how to slow down the aging process effectively.
4. Choose the right anti-aging product
Many girls have focused on investing in anti-aging products quite early. This is very good, but not everyone gets "sweet fruit" from this investment. Because there are many products on the market that are labeled "anti-aging", but not all product lines are suitable for all skin types.
Choose the right anti-aging cosmetics for your skin
Prioritize serum products containing "genuine" anti-aging ingredients such as retinoids, vitamin C, niacinamide, peptides... with concentrations suitable for your skin. You will be surprised at how useful it can be.
And moisturizers labeled anti-aging will often contain more nutrients and moisturizing ingredients – so depending on the weather, you need to consider how to use it appropriately. Because on hot days in the summer, you should definitely not use these "concentrated" creams. Refer to the Signs you are using inappropriate cosmetics to know when to stop at the right time and how to treat a cosmetic allergy.

5. Never forget to apply sunscreen
How strict is your skin care process, how good is the use of products. But if you don't use sunscreen to protect your skin, then surely no matter how anti-aging, later your skin will quickly become dull and wrinkled.
Why? Because UV rays in the sun are extremely harmful to the skin, they not only cause melasma, increase the likelihood of skin cancer, but also cause skin cancer. collagen under the skin is broken. If you regularly do not use sunscreen for a long time, then surely after the age of 30, the signs of aging will quickly return. So do you know how to choose the right sunscreen for you? Refer How to choose the right sunscreen for your skin? and important notes when choosing sunscreen.

Always use sunscreen every day
>>> Related posts: Factors Affecting Skin Health The most basic knowledge about skin is shared by experts at spa, understanding these 7 factors will help you know how to take better care of your skin.
"Getting old" is a natural law – but how fast or slow the aging process depends on your body and skin care regimen. Therefore, always pay attention to the basic skincare rules as well as always eat and live the healthiest. Hope the sharing of Miss Tram will be useful to you. Wish you always have a beautiful healthy skin!
You are viewing the article 5 Important Anti-Aging Rules That Shouldn't Be "Ignored" in a good forum News – Beauty Secrets of Miss Tram VietNam. All reviews and comments please send them directly to the email address teamcrmmisstram@gmail.com or you can comment right below the article. Don't forget to follow other good articles of Miss Tram and share it with everyone!