Surely every beauty believer understands the importance of skin cleansing steps, especially the daily face wash. Step Skin Care This not only works to remove dirt, sebum, and helps nutrients to be absorbed in the best way, but also effectively prevents skin problems such as acne, dark spots, and pigmentation. large pores.
However, not all girls are performing the most effective facial cleansing steps. Therefore, Miss Tram - Natural Beauty Center Please share 5 facial cleansing tips that dermatologists around the world recommend.
Effective Face Wash Tips Dermatologists Recommend
1. Use a gentle cleanser when the skin is having problems
Usually, facial cleansers have a high pH to easily remove sebum and dirt on the skin. However, how to choose which facial cleanser is suitable for the current skin condition?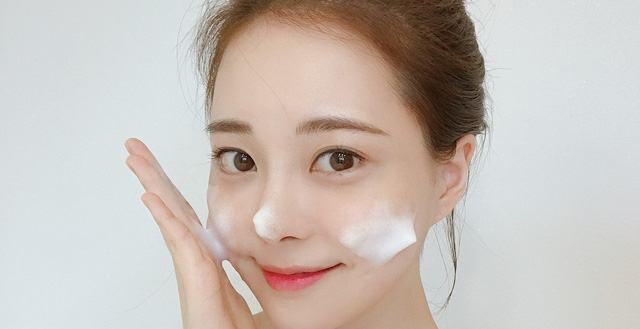 Choose a gentle cleanser that effectively protects your skin
According to dermatologists, always prioritize mild cleansers to ensure that they do not damage the skin's natural moisture, especially when your skin is problematic. These cleansers both keep the skin clean and do not irritate the skin.
In addition, you should also use a facial cleanser for the purpose of washing your face only, because the accompanying uses such as moisturizing, anti-aging, acne treatment, melasma usually will not promote much effect. Not only that, these accompanying ingredients can cause irritation if your skin is sensitive.
2. Use cotton gauze to massage the skin
Effective skin care steps are appreciated by experts
One face wash trick you can try is to use cotton swabs to massage your skin. Usage is extremely simple:
Step 1: Use cleanser to create foam thoroughly and then massage on the face.

Step 2: Use cotton gauze, absorb water and gently wipe the face in the direction from bottom to top, from inside to outside until the foam is gone.

Step 3: Wash your face with water.
This is the face wash recipe Shani Darden - a beauty consultant in the US shared and received a lot of positive feedback from beauty followers. Using this cotton swab will help thoroughly remove dead cells and dirt deep on the skin in a gentle but extremely effective way. See details in the article The Secret To Washing Your Face The Right Way You Should Know will help you better understand the benefits of washing your face properly and how to choose the right cleanser for each skin type.

3. Double cleansing at night
Method double cleansing properly in the evening
Although it is no longer strange to many people, double cleansing has always been a method of skin cleansing that is especially noted by dermatologists. This method means double cleaning with 2 steps:
Step 1: Use makeup remover products to clean the layers of cosmetics, excess oil and dirt on the skin.

Step 2: Wash your face again with cleanser. This second cleaning step helps remove the remaining dirt, ensuring the most open pores.
Note: Unless you do not use any cosmetics, double cleansing is always necessary for you. Because current cosmetic lines, especially sunscreens, will not fully penetrate 100% into the skin. They stick on the skin all day long, combined with dirt and dead cells will make pores very easily clogged. And if you only clean your skin with a cleanser, your skin will not be thoroughly cleaned.
>>> Recommended articles: Spring Facial Care For Women Over 30 - For women in their 30s, how effective skin care is always a matter of most concern. However, not everyone knows that skin care routine Each season has different main things. Because with each condition of temperature, climate, humidity, the skin care steps will also have certain changes. My sisters refer to take care of my skin to always be healthy and beautiful.
4. Cover your face with a warm towel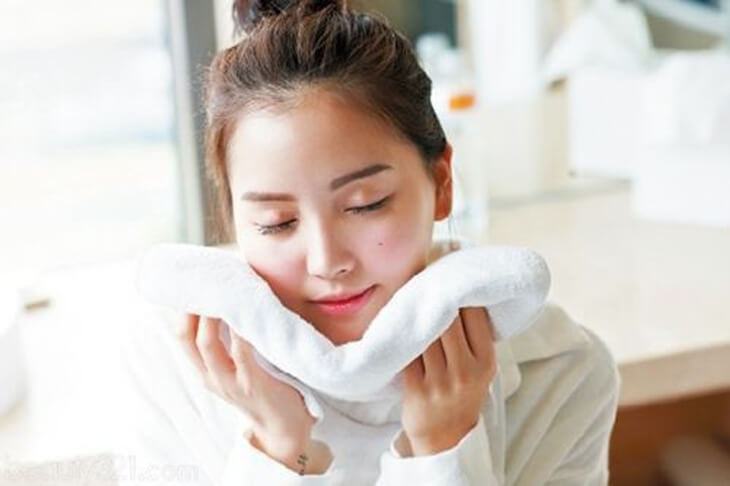 Choose a clean warm towel for your face
Willow experts recommend that, after removing makeup, you should use a warm towel to cover your face. This makes the pores bigger and helps to remove dirt and oil residue more easily when using facial cleanser. In particular, areas with excess oil and easily clogged pores such as forehead, nose wings, chin need to be warmed with a warm towel carefully to thoroughly remove the remaining dirt.
When the skin is cleaned every corner, you will limit skin problems such as sebum fibers and blackheads. Not only that, the skin is also more even and easily absorbed nutrients quickly.
5. Always ensure the ideal washing temperature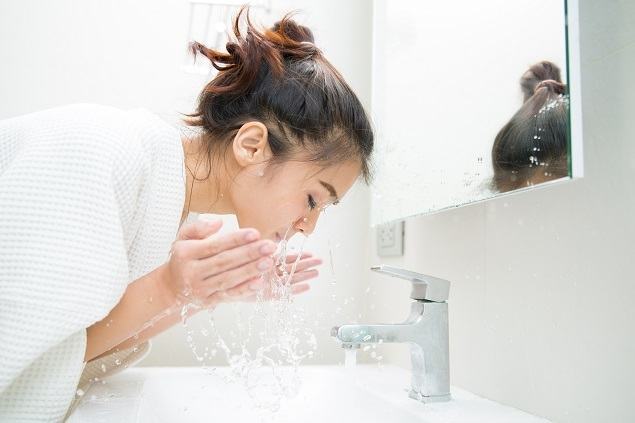 Always pay attention to the temperature of the face wash
According to Joanna Vargas - a famous dermatologist of Hollywood stars, warm water with a temperature of 36,5 to 40,5 degrees Celsius is the most ideal environment to wash your face.
Warm water will open up the pores, helping the dirt stuck deep in the skin to be pushed out most thoroughly. Moreover, washing your face with the same temperature as the body also helps to increase blood circulation, stimulate skin regeneration, and make the skin more ruddy and smooth.
>>> Related posts: Skin Care Secrets Great Great From Japanese Women – If you come across a Japanese woman, you will have to say: "They have a beautiful skin". Japanese women know that what determines youthful beauty begins with skin care. So it is not surprising that the world turned to learn and apply skin care methods from Asia, but especially from Japanese women.
This face wash with many uses is trusted by many dermatologists and famous stars. In particular, they are perfectly suited to skin conditions. Therefore, always prepare the ideal temperature when washing your face.
Miss Tram VietNam Make sure your cleaning steps are still correct. But in order for them to be effective and improve your skin better, you need to work hard to experiment with new methods to optimize your skin cleansing process. Hope the above sharing will be useful to you. Wish you always have a beautiful healthy skin!
You are viewing the article Top 5 Extremely Effective Facial Cleansing Tips that Dermatologists Recommend in a good forum News – Beauty Secrets of Miss Tram VietNam. All reviews and comments, please send them directly to Email teamcrmmisstram@gmail.com or you can comment right below the article. Don't forget to follow other good articles of Miss Tram and share it with everyone.