Oily skin is known to be a very "fluffy" skin type, so it needs to be taken care of carefully. Although "fastidious" but this skin type is very "favorite" green tea. If you often green tea mask For the skin, it can improve the oiliness significantly, making the skin more smooth and healthy. Green tea powder is known as a "panacea" to help rejuvenate and improve health effectively. Not only that, they are especially good for the skin, bringing many positive benefits:
Green tea powder helps to increase moisture in the skin, making it soft and smooth

In green tea powder also contains many sunscreen compounds, maximum protection against the sun's attack

This powder contains antioxidants, thereby inhibiting the development of free radicals, effectively preventing skin aging.

Not only that, this powder also has a great whitening effect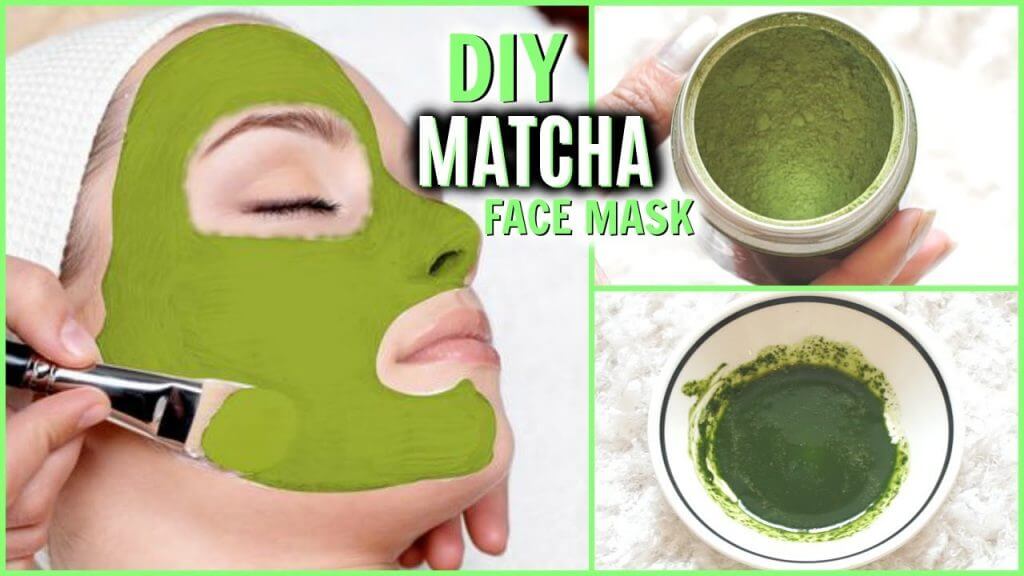 Using green tea is very simple, you can use pure green tea powder mixed with a little water into a paste and apply on your face. Or if you want to get more effective, you can combine green tea powder with other natural ingredients. Miss Tram - Natural Beauty Center introduce you 5 recipes Great mask for oily skin from green tea powder as follows.
Great Green Tea Powder Mask For Oily Skin
Recipe 1: Green tea powder and lemon juice

Materials include:
1 teaspoon green tea powder

1 spoon of lemon juice
Doing:
Add the green tea powder to the lemon juice and mix well, if the mixture is dry, add a little water until you get a paste.
Recipe 2: Green tea powder and yogurt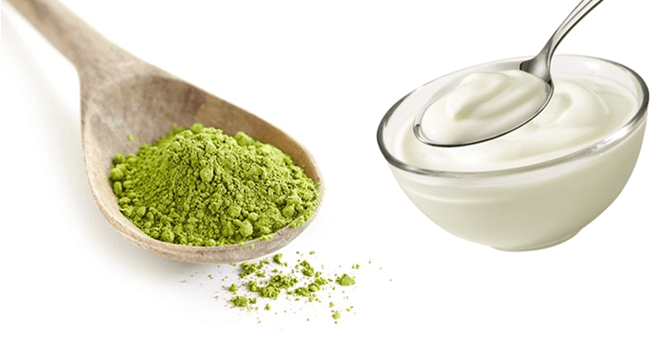 Materials include:
2 teaspoon green tea powder

4 tablespoon unsweetened yogurt
Doing:
You add green tea powder to yogurt and stir until the two ingredients are completely mixed and then use.
>>> Related posts: Acne Prevention Secrets For Oily Skin If you have a sensitive scalp, condolences, your chances of acne are 10 times higher than that of normal skin types. Refer now to know the best way to prevent acne.
Recipe 3: Green tea powder and oats
Materials include:
2 teaspoon green tea powder

4 tablespoons oatmeal
Doing:
Use a little warm water to dissolve the oatmeal, then add the green tea powder and mix well. Stir the mixture clockwise to prevent the dough from clumping until it forms a paste.
Recipe 4: Green tea powder and rice water
Materials include:
2 teaspoon green tea powder

4 tablespoons of rice water
Doing:
You take the water to wash the rice a second time into a clean bowl, wait 2 minutes for the water to settle and decant the bottom juice. Then you mix in the green tea powder until it forms a moderate consistency.
Recipe 5: Green tea powder and tomatoes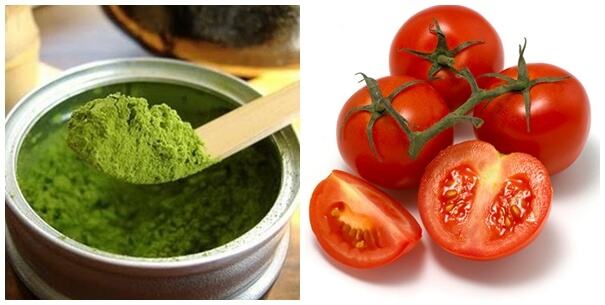 Materials include:
2 teaspoon green tea powder

Tomato juice
Doing:
Peel and seed tomatoes, remove the flesh and squeeze into juice. Next, you add the corresponding amount of green tea to tomato juice to achieve the necessary consistency and apply on your face.
The above 5 recipes are all very easy to make with relatively easy-to-find ingredients. You should regularly apply the mask to your face 2-3 times per week for best results. Skin care, especially skin care with natural ingredients and requires a lot of patience, if you take care of your skin regularly, owning a beautiful skin is certain.
>>> Related posts: Skin Whitening Mask For Oily Skin - When preparing a skin whitening mask, you must also pay attention to choosing ingredients with oil-control properties, helping to balance moisture on the skin, thereby improving the effectiveness of whitening skin care.
Simple way to take care of oily skin
In addition to regularly applying masks, you also need to note a few things to effectively protect oily skin:
Firstly, always keep your skin clean because clean skin will limit dust, clogged pores, oil spills and acne. Protect your skin by carefully covering up when going outside, washing your face with cleansers and cleansing oils, and exfoliating your skin properly. Don't forget to keep things that come in contact with your skin often, like pillows and towels.

Second, protect your skin effectively with sunscreen. At the same time, you should also apply masks, use creams or mineral sprays to provide nutrients to the skin. It is recommended to use products suitable for oily skin and of natural origin to protect skin safely.

Third, should limit fast foods, soft drinks, caffeine, etc. Instead, drink a lot of water, eat a lot of green vegetables, fruits and healthy foods. In addition to beautifying the skin, eating right will help improve health and protect the perfect figure.

Fourth, don't forget to relax, limit stress or let your body get too tired. You should practice the habit of reasonable rest, think positively and aim for the good things in life.
>>> Related posts: Misconceptions When Taking Care of Oily Skin To have a healthy skin, you need to understand your skin well to care for and choose the most appropriate and effective skin care products. In addition, there are many habits and misconceptions that adversely affect the skin that you do not expect
Oily skin will no longer be a problem if you know how to improve your quality of life and regularly use the 5 masks that Miss Tram has just provided to protect your skin. You should use the right mask with the right formula and the right way to bring the most effective, help limit oil, bring a youthful and healthy skin.
See More About News – Beauty Secrets By Miss Tram - Natural Beauty Center:
Should Oily Skin Use Moisturizer Or Not?
Which Makeup Remover Should I Use For Oily Acne Skin?
Revealing 3 effective ways to push acne hidden under the skin Lên