Acne always a problem that causes a lot of people headaches. Because this skin condition not only affects the aesthetics of the face, but also leaves a lot of sequelae such as darkening, scarring and skin aging later on.
Usually, acne cases are caused by the accumulation of too many toxins in the body/skin (from the outside or inside). Therefore, if you want to quickly remove obnoxious acne spots, you need to set up a regimen skin detox Effective from the inside out. So this article Miss Tram - Natural Beauty Center Please share the quick detox steps for acne skin.
Quick Detox Method For Acne Skin
1. Limit consumption of harmful toxins
The first step, you need to minimize the absorption of harmful toxins such as dirt, metal dust, plastic dust, cigarette smoke ... by always covering and protecting your body carefully when going out.
The vegetables you come into contact with every day may also contain residual amounts of pesticides, herbicides and antibiotics. Therefore, at this time, you should prioritize choosing food sources from supermarkets or clean food stores to ensure that your body is not loaded with any more toxins. Besides, you should also stay away from packaged foods, processed foods high in fat and sugary foods – because this is one of the causes of acne-prone skin.
>>> Related posts: Detox Mask For Combination Skin Da - Skin care and detox mask recipes for those with combination skin.
2. Start detoxing from within
Regardless of the cause of acne, the process of removing acne requires a combination of skin detoxification from the inside out. Because a healthy skin from the inside is a necessary condition, and proper skin care is a sufficient condition for a healthy and beautiful skin, supporting effective acne treatment. To detox your body as quickly as possible, you need to set yourself up with the healthiest diet and activities. Specifically, Miss Tram will help you with some important points below:
Always make sure to drink enough water: divide the amount of water you need to drink throughout the day to ensure that your body is always sufficiently hydrated at all times When the body is sufficiently hydrated, the blood circulation will work more smoothly, so that toxins in the body are also easily eliminated. Research Method to detox the body with filtered water of the Japanese.
Eat lots of fresh vegetablesFresh vegetables and fruits are an extremely rich source of vitamins for the body and skin. This food source also helps the digestive and excretory systems work better, speeding up the detoxification process for the body effectively.
Limit the use of frying oil, stir-fry: absorbing a lot of frying oil, stir-frying is also a way to accumulate toxins in the body. Therefore, to effectively detoxify the body, you should prioritize steaming, boiling, salads ...
3. Simplify skin care steps
During acne, it is best to minimize skin care steps. Because sensitive acne skin can be irritated with too many layers of skin care – this will interfere with the acne treatment process, and make the acne situation not permanent.
Therefore, as long as you make sure your skin is always clean and well-moisturized, and the pores are always open, the process of skin detoxification and acne treatment will be much smoother. Refer Basic skin care steps to ensure healthy skin.
4. Sauna detoxifies the skin
Sauna is one of the simple but surprisingly effective skin detox methods. In particular, with acne skin, this is an extremely quick way to push acne.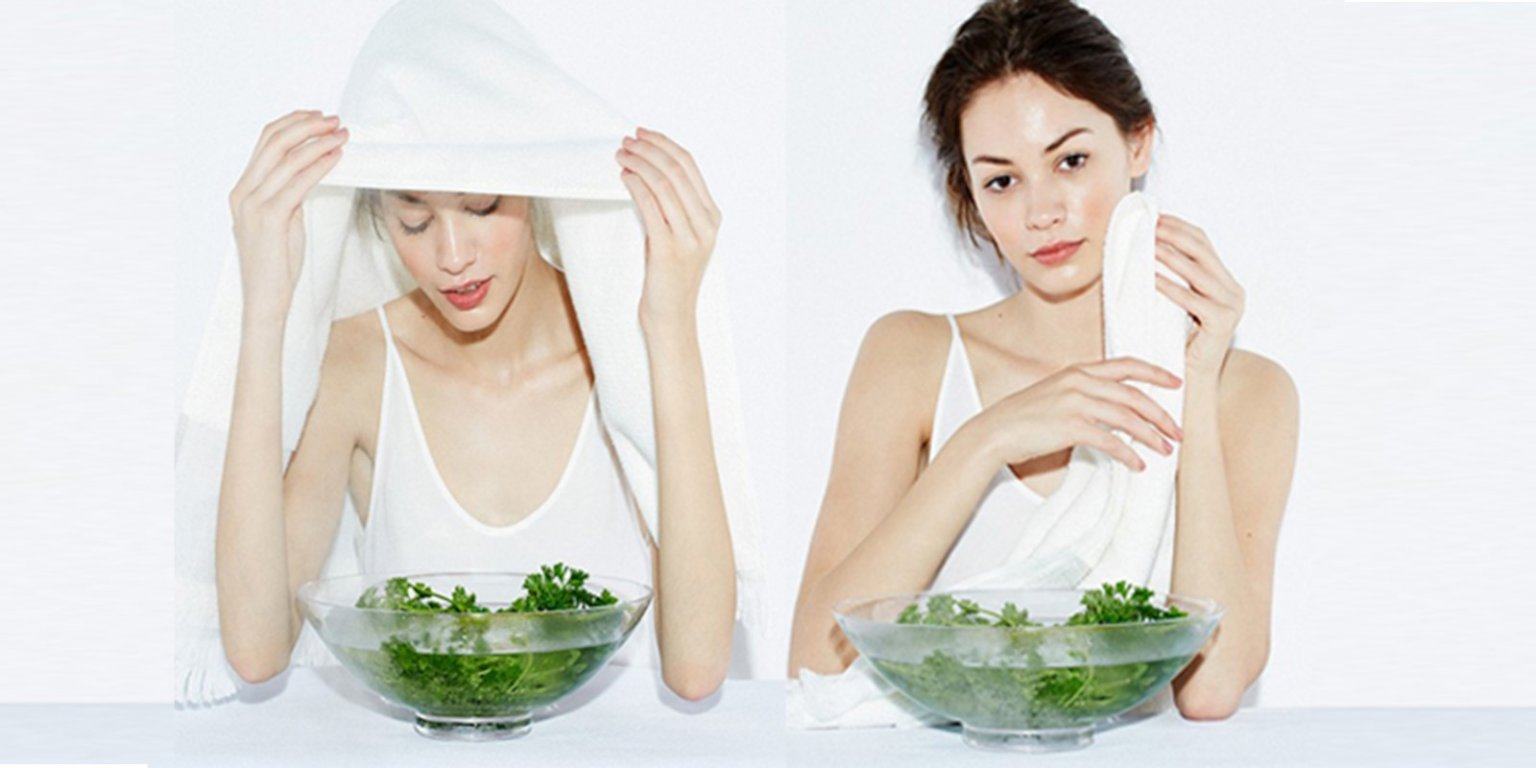 Doing:
1 step: Clean the skin.

Step 2: Prepare steaming materials such as warm water, herbs, essential oils (it is recommended to use essential oils to treat acne such as tea tree, lavender, rosemary, mint, ...).

Step 3: Conduct a steam bath: put your face 30cm away from a bowl of warm water, cover with a towel and steam for less than 10 minutes.

Step 4: Wash your face with cool water.
Sauna should be 1-2 times a week and should not be done for more than 10 minutes, because this will make the skin dehydrated and cause severe dryness. You can refer to the article specifically: These Common mistakes when steaming to detoxify the skin.
5. Use detox masks to treat acne
Using a detox mask is a simple, time-saving and effective detox for the skin. For mild acne conditions such as blackheads, bran acne, mild acne, hidden acne, you can use masks from natural ingredients (honey, oats, yogurt, apple cider vinegar) combined with bamboo charcoal, clay, mineral mud. These ingredients are very effective in detoxifying acne-prone skin.
If you want to use detoxifying and acne-fighting masks on the market, choose products with clear brands and origins to ensure your skin is detoxified in the safest and most effective way. .
>>> Related Posts: Detoxify Skin Using Mixing Cream – Share the important reasons to be toxic if you regularly use the mix cream, and effective detox methods.
The above are the share of Miss Tram - Natural Beauty Center about the secret to detoxifying acne skin quickly. To effectively eliminate toxins for the skin, you need to combine the right skin care methods from the inside out. In particular, with severe acne skin, please consult a dermatologist to find the safest and most effective detoxification method.
Currently, Miss Tram has many skin detox packages that are chosen by many women such as CO2 mask treatment, biological light technology treatment, etc. You can contact Miss Tram for advice on packages. The service that best suits your skin. Hope this article will be useful to you. Wish you always have the most beautiful healthy skin!
See More About News – Beauty Secrets By Miss Tram - Natural Beauty Center:
Top 7 Foods To Help You Detox, Slim, Beautiful Skin After Tet
Facial Detox with Gaseous Mineral Water Korean Style