In the summer, a lot of exposure to sunshine more or less will make your skin dull. Beside use sunscreen Regularly, you need to focus on taking care of your skin from the inside out to stay healthy and bright. Today's post, Miss Tram - Natural Beauty Center please share 4 skin care tips Helps dispel worries of dullness on summer days.
Apply The Following 4 Tips To Dispel The Worry Of Dull Skin In The Summer
1. Exfoliate dead skin
Exfoliation is an indispensable step in the skin care process and should be maintained twice a week, any season of the year.
Like all living things, skin cells are born, grow, and die. This skin care step helps to remove old, dry skin on the surface, giving new cells space to grow, resulting in smoother and brighter skin. In addition, when the dead cells are removed regularly, the pores are more open, the absorption of nutrients also becomes easier and more effective.
Have a lot of Exfoliating products on the market or you can also create your own mix Exfoliation at home. However, it should be noted with granular products, you should choose for yourself a type with a super small size, soft texture so as not to scratch and damage the skin.
2. Vitamin C Supplement
Everyone knows the importance of vitamin C In the work of beauty, this vitamin is considered a "panacea" to help whiten and pinker skin. To dispel the worry of dull skin, you need to supplement vitamin C in three ways:
Eat foods rich in vitamin C
Oranges, lemons, pineapples, strawberries, kiwis, tomatoes, green vegetables ... are vegetables rich in vitamin C and antioxidant compounds. In addition to helping to whiten the skin, this group of foods also protects the skin against the effects of ultraviolet rays. So, actively add a lot of vegetables, fruit smoothies every day to keep your skin healthy and beautiful.
Use vitamin C serum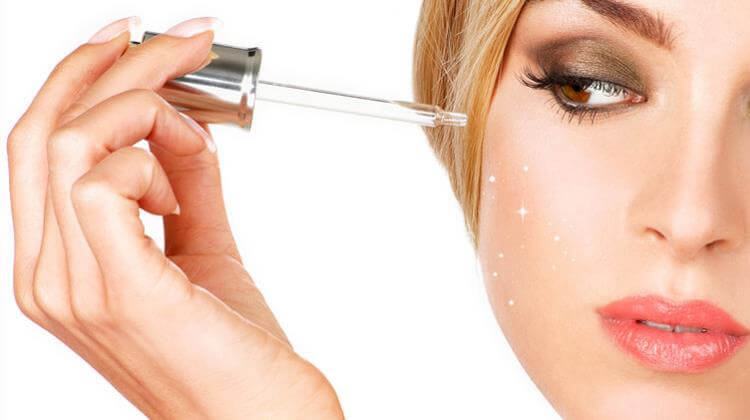 To provide vitamin C to the skin from the outside, using a serum is the most effective. Serums are essences with extremely small molecules that penetrate quickly and deeply into the skin.
Every morning, after cleansing and toner, apply a vitamin C serum, followed by moisturizers and finally sunscreen. In addition to combining sunscreen to create a solid shield for the skin, vitamin C serum also has the effect of erasing dark spots, making skin bright pink effectively.
>>> Sharing corner: Should you take vitamin C to reduce dark spots?? - The article shares experiences when using vitamin C in reducing dark spots caused by acne most effectively.
Apply vitamin C mask
Currently on the market there are many vitamin C masks for the skin. Applying a mask twice a week is also a way to provide vitamin C to the skin effectively. However, it is necessary to choose to buy masks with reputable brands and clear origins for the safest skin care.
Note: In addition to the above three tips, there is another effective method of vitamin C supplementation, which is vitamin C electrophoresis.
This is a fairly new method of supplementing vitamin C for the skin and is chosen by many modern women. This method applies ion electrophoresis technology to transmit vitamin C deeply into the skin to each skin cell. In addition, electrophoresis also helps to fade pigmentation, remove dead cells and protect the skin from ultraviolet rays. This is a method that is 100 times more effective than using dietary supplements, orally or topically.
However, this method requires a long process, must know how to protect and shield the skin and especially must choose reputable centers to perform.
3. Fully moisturizing
With the hot summer weather and air-conditioned air, your skin will also be dehydrated and dry quickly, which in turn leads to dull and lifeless skin. In addition to the skin, the skin is not sufficiently hydrated, the latter will very quickly age. So, to keep your skin smooth and bright, don't forget to moisturize your skin every morning and night.
One note, you should pay attention to choose skin care products with textures and ingredients suitable for your skin type. During the day, with oily skin, you should use gel/lotion products so that the nutrients can be easily absorbed into the skin without causing occlusion. As for dry skin, you should apply a layer of moisturizing cream to the skin to be fully moisturized.
>>> Related Articles: Japanese women's skin care - Refer to know about the most basic and effective skin care secrets Japanese women are applying today.
4. Facial massage
Facial massage Increases blood circulation under the skin, making the skin brighter and firmer. The massage will help the skin relax after a long day fighting the bad effects of the environment. You should massage your face after you finish your skin care steps – this helps to warm your face, helping the skin to absorb nutrients faster and deeper.
Therefore, you should pocket yourself at least one facial massage to help firm and whiter skin.
With just 4 simple tips above, you not only dispel the worry of dull skin on summer days but also keep your skin young and smooth all year round. In addition, you should keep your body happy and have a balanced diet and activities so that your skin is best taken care of from the inside. Miss Tram - Natural Beauty Center Wish you always have a beautiful healthy skin!
See More The Beauty secrets By Miss Tram - Natural Beauty Center:
The Secret To Care For White Smooth And Dry Skin
Comprehensive Sun Protection For Skin From The Inside Out
Skin Protection Tips For Office Workers
Article Summary

4 Tips To Dispel The Worry Of Dull Skin In The Summer

Exfoliate dead skin

Vitamin C Supplement

Fully moisturizing

Face massage