Do you know, to have a beautiful healthy skin Need full care from the inside out? What you eat and drink has a huge effect on your skin. Therefore, always pay attention to your daily meals to ensure adequate supply of necessary nutrients for the body.
So how is it that we so often forget to teach respect by respecting the children themselves? What to eat to have bright white skin shining? And Miss Tram - Natural Beauty Center Refer to the following 30 extremely wonderful foods.
30 Foods That Help Brighten Skin
Fruits
Orange family fruit
Citrus fruits such as oranges, lemons, and grapefruits are rich in vitamin C – this is an important source of vitamin that stimulates the body to synthesize. collagen, improve skin texture and help skin become smooth, bright white.
Berries
Strawberries, blueberries, raspberries are extremely rich in vitamins and antioxidants, which help increase resistance and effectively reverse signs of aging. As a result, the skin will be healthier, brighter and more youthful.
Pineapple
Pineapple is an extremely low energy fruit, rich in vitamins (vitamins C, B1, B2, Ca, Phosphorus, Fe, Cu) and fiber. Therefore, this fruit is extremely good for the skin and skin tone when you use it every day.
Pomegranate
Pomegranate is rich in vitamins A, C and especially vitamin E - a very good vitamin for the skin, effective against the skin aging process. In addition, eating pomegranate regularly also helps you to improve your bust significantly.
>>> Related Posts: Group Food Treatment of Melasma, Freckles most effective, safest - Helps you quickly regain bright, soft, smooth skin.
Apple
Apples contain many vitamins A, C, E and are rich in minerals (iron, potassium, phosphorus, magnesium, ..). Eating apples every day is not only good for health and physique but also stimulates the body to produce collagen and elastin - making the skin smooth and rosy.
Avocado
Avocados are rich in vitamin E and healthy fats – making the skin softer and brighter. This fruit also works to protect the skin from damage caused by the sun – effectively preventing melasma and other signs of aging.
Watermelon
Watermelon is a lot of water, vitamins and minerals, helps to increase moisture and nourish the skin from the inside. This fruit is also very effective in soothing sunburned skin.
>>> Related Articles: These Foods That Cause Acne if you use it regularly every day – See and know how to limit the dangers to the skin.
Drinks
Honey lemon
A cup of warm water mixed with lemon and honey in the morning is not only very good for health, but also provides adequate moisture and nutrients for the skin for a long day.
Soymilk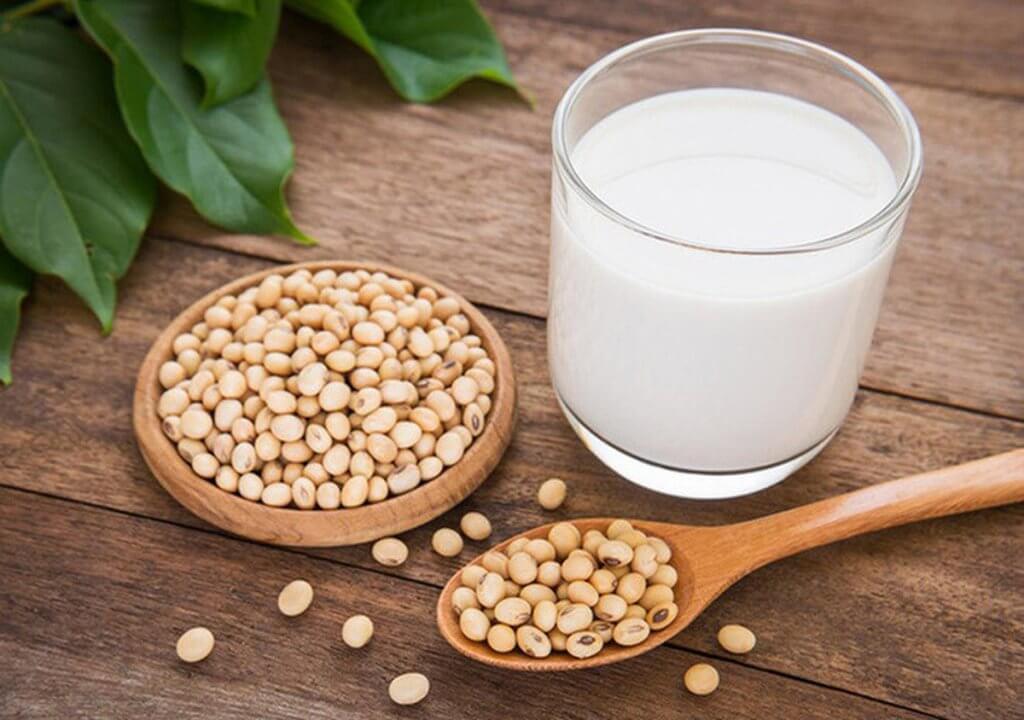 Soy milk contains isoflavones – a compound that can improve skin dryness and stimulate collagen production effectively. As a result, your skin will be brighter and smoother when drinking this milk every day.
Fresh milk
To drink a cup of fresh milk No sugar every day not only provides calcium for the body but also helps to make the skin whiter and smoother. Because fresh milk is rich in vitamins A, B12, B2 and micronutrients such as iron, magnesium, phosphorus, protein.
Fresh coconut water
A cup of coconut water a day will bring about a hydrating effect – making the skin surprisingly smooth. Not only for the face, coconut water also helps to enhance eyesight, increase the body's resistance extremely effectively.
Green tea
Green tea is an ingredient rich in antioxidants, which helps prevent aging and protects the skin against the negative effects of the environment extremely effectively. Not only that, a cup of green tea water every day also helps to provide moisture and helps to make the skin brighter and smoother.
Wine
The famous red wine contains resveratrol - which has the effect of preventing the aging process and protecting healthy, smooth skin. Therefore, often add this drink to your menu.
Fruit juice
Any fruit contains many vitamins that are good for health and skin. Therefore, you can add to the menu every day a different smoothie.
>>> See more good articles: The Bad habits when taking care of your skin in your 30s You need to stop immediately if you don't want your skin to be seriously damaged.
Vegetables
Tomato
Tomato is an extremely good fruit for the skin because it contains a lot of vitamin C and carotenoids (including lycopene) - which protect the skin from the sun and prevent the signs of aging effectively.
Sweet potato
Sweet potatoes are a great source of beta-carotene - this is an antioxidant active, which helps prevent the aging process and effectively protects the skin against negative environmental influences. As a result, your skin will be younger and smoother with regular use of this food source.
Bell pepper
Just like sweet potatoes, bell peppers are an excellent source of beta-carotene. This is also a rich source of vitamin C, which helps boost collagen synthesis, improving skin firmness and radiance.
Broccoli
Broccoli is rich in vitamins A, C and minerals important for skin health such as zinc, iron, and carotenoids - which help keep skin healthy, white and effectively prevent signs of aging on the skin.
Spinach
Spinach is considered the "king of food" among vegetables, because they are rich in vitamins C, D, A, E, K, minerals and omega 3 fats. Therefore, this food source is very good. Benefits for health, helps to replenish blood, strengthens resistance and also helps skin to be fresher when used daily.
Carrot
Like sweet potatoes and bell peppers, carrots are rich in vitamins and beta-carotene. This food source is extremely beneficial for health and skin. However, you should only use it regularly every week, not eating too many carrots because it will cause jaundice.
Red pumpkin
Pumpkin is considered a nutritious food source because it contains almost all important nutrients for the body and skin. Therefore, regularly add pumpkin to the menu every day.
Okra
Okra is rich in protein, vitamins, fiber, folic acid, minerals and antioxidants (such as beta carotene and lutein). This food source is not only good for health, but also helps to make the skin healthier and firmer.
Foods Rich in Protein, Fat
Lean meat
Lean meat is high in protein, iron, zinc and low in fat. This food source plays an essential role in creating and maintaining muscles and tissues in the body. Thanks to that, the skin is also firmer and more rosy from the inside.
Tofu
Tofu is a particularly viable protein option if you avoid animal foods. This food source also contains a number of minerals and isoflavones – which help keep the skin healthy and whiter from within.
Shrimps and crabs
Shrimp and crab are extremely rich in protein and calcium. In addition, they also contain many B vitamins and minerals (calcium, zinc, iron, copper, potassium ...) - help the body stay healthy and strengthen the skin's resistance.
Fatty fish
In addition to protein, fatty fish such as salmon, mackerel, and tuna contain a lot of vitamins and omega 3. These substances have the ability to regenerate the structure of the skin, help protect cells, moisturize the skin, prevent Very effective in preventing skin cancer.
Nuts
Nuts such as walnuts, almonds and legumes are all rich in vitamin E, omega 3, omega 6 and powerful antioxidant compounds. These active ingredients are all essential and extremely beneficial for skin health.
>>> Good sharing corner: Skin Care Tips From Japanese Women – Watch and apply immediately for yourself!…
Other Foods
Yogurt
Eating yogurt regularly not only improves the digestive system and increases resistance, but can also help keep the skin healthy and whiter. Because this food source is rich in vitamins, amino acids and extremely low in fat.
Whole grains
Whole grains are rich in vitamins, fats and nutrients – regular use of this food source will help keep skin healthy and can improve the condition of acne-prone skin.
Turmeric starch
Turmeric is considered a "superfood" because it is rich in antioxidants, especially curcumin. Not only prevent many diseases for the body, these active ingredients also help remove dark spots and help the skin to be rosy quickly.
To have a healthy and fresh skin, you need to establish a healthy diet and full of nutrient groups. Because in addition to external skin care steps, the addition of nutrients from the inside has a great influence on the health of the skin. Hope the above sharing of Miss Tram - Natural Beauty Center will be useful to you. Wish you always have the best healthy body and skin!
See More About News – Beauty Secrets By Miss Tram - Natural Beauty Center:
15 Effective Ways To Treat Acne At Home From Natural Ingredients
10 Ways to Exfoliate to Make Skin Soft and Smooth That Women Love
Top 10 Ways To Take Care Of Long Curved Eyelashes At Home With Natural Ingredients