Egg Not only is it used in cooking, but it also has many uses in beauty. This is really the "savior" of people with fair skin shiny skin, by not only reducing greasy, egg mask also helps whiten skin and tighten pores effective.
Oily skin is inherently a difficult thing to say for many people, especially women. In addition to causing the skin to be unsightly oiled, oily skin also causes large pores, the skin is prone to acne, especially acne and pimples. blackhead. Oily skin is very weak and vulnerable, you should not use cosmetics arbitrarily, because it will make the skin condition worse.
To control the shine on your skin, you can use a natural egg mask, this is really a great recipe for people with oily skin. You should note, only use egg whites, not yolks, because only egg whites have an effective oil control effect.
Salvation Chicken Egg Mask For Oily Skin
Recipe 1: Chicken eggs, lemon and turmeric
Materials include:
3 teaspoon turmeric powder

2 spoon of lemon juice

1 egg white
Doing:
You mix all the ingredients together into a paste, then apply it on the cleansed face and gently massage for 20 minutes. Then wash your face with warm water and apply moisturizer to your skin.
Chicken eggs are rich in vitamins, minerals, proteins, etc., which help strengthen the skin's resistance, fight free radicals, whiten skin and fight wrinkles quickly. And turmeric is rich in curcumin, which helps to restore damage, heal wounds, thereby improving acne and preventing acne. In the above formula also contains lemon that works to reduce acne, improve skin pigmentation, help clean skin and reduce oil effectively.
>>> Recommended articles: Route Oily Acne Skin Care The Right Way - Learn 5 steps to take care of oily skin at home safely and effectively.
Recipe 2: Egg mask, lemon, honey
Materials include:
1 egg white

1 spoon of honey

1/2 teaspoon lemon juice
Doing:
You put all the ingredients in a clean bowl, mix well and whip the mixture up, then apply it on your face, massage gently for 15-20 minutes and then rinse with warm water.
Similar to recipe number 1, egg whites are rich in minerals and antioxidants, so they have the ability to fight free radicals, resurface skin, whiten and prevent aging effectively. . Meanwhile, lemon has the ability to clean deep inside the pores, brighten the skin, reduce oil, treat dark spots, make the skin more smooth and beautiful. Finally, honey adds to the formula a variety of vitamins such as A, D, B12 along with minerals that help keep skin healthy from deep within, giving you a radiant and vibrant skin.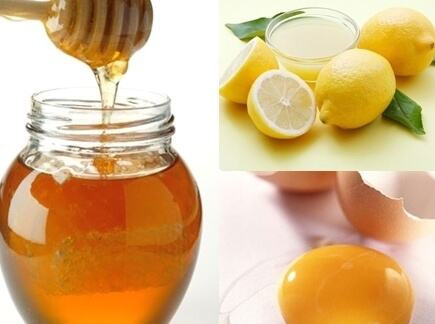 Recipe 3: Butter and egg whites
Materials needed:
Doing:
You put the butter in a small bowl and mash it, then add the eggs and mix well. Apply the mixture on your face and massage gently for 20 minutes before rinsing your face with warm water.
If egg whites help control oiliness, tighten pores and whiten skin, avocado will play the role of perfect skin beauty. Avocado is rich in vitamin A, which helps to exfoliate dead cells, and contains a lot of glutamine, an amino acid that cleans and protects the skin from the effects of the external environment. Avocado and egg white mask will give you a smooth, shiny and firm skin, effectively fight aging problems.
>>> Recommended articles: Moisturizing Mask For Oily Skin – Share why you should moisturize oily skin, and how to make a natural moisturizing mask from ingredients such as turmeric, yogurt, aloe vera…
Some notes when applying masks for oily skin
You should just Mask 2-3 times per week, applying too much will not be good for the skin because egg mask has exfoliating effect. Also, you Mask should be applied at night to avoid skin damage by the sun
You should also note that, after drying, the egg mask will harden, so pleaseSoak a little water to soften the mask and wash it off, Do not use your hands to peel when the mask is dry to avoid damage to the skin.
In addition, you should have a healthy diet and proper skin care regimen. Regularly Use sunscreen to protect your skin perfectlyminimize the unwanted effects of the sun.
You should use chicken eggs, combined with the Clean and safe ingredients, to bring the best skin care effect. When applying, it is necessary to apply the correct time and dose. Do not apply too long and apply too thickly, it will be counterproductive, causing the skin to clog pores, causing acne and skin damage.
>>> Recommended articles: Choose the Fruit Mask That's Right For Each Skin Type Choose ingredients and mask recipes suitable for basic skin types: oily skin, dry skin, sensitive skin, etc.
Natural beauty is a process that requires perseverance. Using egg mask regularly will help control sebum effectively, giving you a perfect and healthy skin from deep inside.
See More About News – Beauty Secrets By Miss Tram - Natural Beauty Center:
5 Amazing Green Tea Masks For Oily Skin
Should Oily Skin Use Moisturizer Or Not?