Beautiful skin is always the top desire of women, because this is not only a measure of beauty but also a factor that affects the youthfulness of the face. Therefore, if you really care about your skin, you need to make sure to use the right skin care products and procedures. skincare always the right way.
This paragraph Miss Tram - Natural Beauty Center Please guide you through the basic skin care steps when you first join the Skincare department.
Three Basic Skin Care Steps Every Season Needs
Although these are basic skin care steps, each skin type will have its own unique characteristics. Therefore, the selection of skin care products should also be done carefully. Miss Tram would like to guide you how to choose the right cosmetics and basic daily skin care steps:
1. Clean skin
Need to clean the skin with 2 steps: Cleansing , and use face wash. Because with the amount of cosmetics you use, regular facial cleansers will not be "enough" to effectively clean (not to mention, your skin also contains a large amount of dirt, sebum and bacteria that stick to the skin throughout the day). a long day).
Step 1: Remove makeup
With dry skin, sensitive skin: You should choose wax or oil-based makeup removers. Because these product lines have the ability to deep clean pores, and at the same time do not lose natural moisture on the skin.
With oily skin: You can choose between a water-based or an oil-based makeup remover. Because they all have the ability to deep clean pores and balance excess oil effectively.
With combination skin: You need to choose a makeup remover with a texture that is neither too thick nor too liquid (preferably gel or milky). Because these product lines can remove makeup deeply without making the skin dry.
>>> Click Take the Skin Test - Simple test to determine exactly what type of skin you have 99%.
Step 2: Wash your face
Wash your face properly With a face wash that works to remove all remaining dirt, leaving the skin completely clear. For this step, you should choose product lines with mild ingredients to ensure that they do not strip the skin of its natural moisture. In particular, even if your skin is oily, you should not choose a product with a pH> 6.5. Because when the pH is too high, your skin will quickly wear out and be easily irritated.
After washing your face, you can balance the pH of your skin with a toner – this is not a mandatory skin care step, but a toner will increase the effectiveness of skin care products several times. Therefore, do not skip this skin care step.
2. Moisturize the skin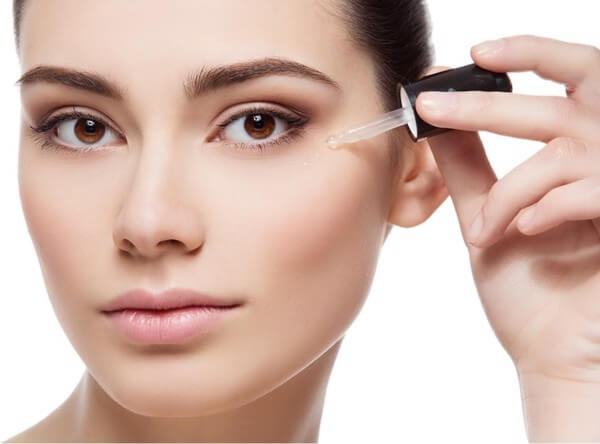 A well-hydrated skin will always be smooth and effectively prevent skin problems. So, no matter what the weather, the skin needs to ensure adequate moisture.
Dry skin needs more moisture than oily skin. Therefore, use creams with cream texture to provide enough moisture for the skin. Oily skin will be more suitable for moisturizing gel and lotion lines. These products both ensure effective hydration and do not cause stickiness to the skin (especially on hot summer days). Refer How to choose the right moisturizer?, safe for skin.
Besides using the cream, you should invest in the skin more serum - this is an essence line that is used to supplement nutrients for the skin very effectively. In addition, specialized serums also have the ability to restore and solve many skin problems. Therefore, if you are not satisfied with your current skin, you should invest in more of these product lines.
3. Sunscreen for skin
For generations before, sunscreen was not considered an important skin care step. However, for Millennials, this is one of the 3 mandatory skin care steps that dermatologists recommend. Because they not only protect the health of the skin but also determine the freshness of your skin after 5-10-20 years later.
To protect your skin effectively, you should use sunscreen products with an SPF of 30-50 (too low will not promote much effect, and too high will easily clog the skin). Besides, always choose product lines with clear brands and origins. Because the "bad" sunscreen lines will make the skin sticky and uncomfortable. See details in the article: How to choose and use sunscreen for optimal performance.
>>> Related posts: The Secret to Comprehensive Sunscreen for Skin – Share how to protect your skin from the sun from the inside and outside by adding the right foods.
Skin Care Steps To Take Regularly Every Week
In addition to the basic daily skin care steps, you need to regularly perform the following essential skin care steps:
1. Exfoliate 2 times a week
Exfoliating is considered an additional cleansing step, helping to remove old skin cells and bring smooth skin to the face. In addition, exfoliating also deep cleans pores, preventing acne, darkening, dull skin in a very effective way.
You can invest in specialized exfoliating products, or use natural formulas such as: oats + honey, rice bran powder + fresh milk, coffee grounds + coconut oil.. is also very good.
2. Facial steaming 1-2 times/week
Beauty steam is not a basic skin care step, but is highly appreciated by dermatologists because of its ability to increase blood circulation and detoxify the skin that this process brings. Not only that, if Sauna properly and regularly once a week, your skin will be more ruddy, pores will also be visibly smaller.
3. Mask 2-3 times/week
Most women use masks to add nutrients to the skin. This is a necessary skin care step and should be maintained on a weekly basis, but you need to note a few points to ensure the skin is replenished with nutrients in the most effective way:
Choose the right mask for your skin type and condition. Be especially careful when using masks for acne-prone skin, sensitive skin.

Always apply the correct amount and time.

Make sure the skin is thoroughly cleansed before and after applying the face mask.

Only apply 2-3 times a week. Too much exposure will make the skin more susceptible to abrasion and sun damage.

Always protect your skin from the sun and protect your skin carefully after applying it to avoid counterproductive effects.
Cleansing, Moisturizing, Sunscreen is Basic skincare steps Indispensable if you want to own a beautiful skin. However, for the most effective skin care, always make sure to use the right skin care products and regularly perform the necessary skin care steps every week.
Hope the above sharing of Miss Tram - Natural Beauty Center will be useful to you. Wish you always have a beautiful healthy skin!
Blog: Beauty secrets