For the guys who are new to the sport Skincare, then work Skin Care How to use cosmetics is always one of the most concerned issues. And to start getting used to the daily skin care steps, men need to ensure 2 basic factors, that is, the skin must always be protected. CLEANING RIGHT , and FULL MOISTURIZER.
So how is it that we so often forget to teach respect by respecting the children themselves? basic skincare routine especially how? Are there any requirements on how to choose cosmetics? Don't miss the next post of Miss Tram - Natural Beauty Center ok
3 Skin Care Steps Men Need To Do Every Day
1. Wash your face with cleanser twice a day
When you have not paid attention to skincare, you must also wash your face at least twice a day in the morning and at night, right? Washing your face is not only a way to start a new day, a way to shake off fatigue after a long day of work, but they have the effect of clean skin. So what is the right way to wash your face?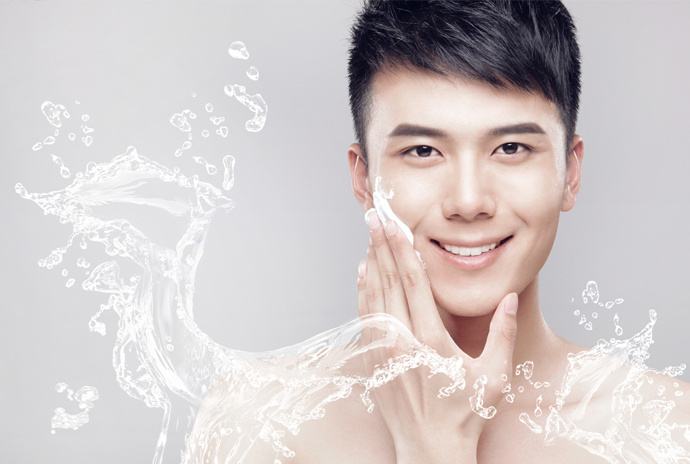 First, you need to choose the right facial cleanser products for your skin.
If you have sensitive skin, acne-prone skin, you should choose a cleanser with natural extracts.

If your skin is often dry, choose a cleanser that has moisturizing ingredients and does not foam.

If you have oily skin, you should choose a foaming cleanser with mild oil control.
In particular, make sure the cosmetic line you use has good cleaning ability, does not contain strong detergents and limited fragrance.
Second, you need to wash your face with cleanser twice in the morning and at night.
If more than 12 hours during the day, men's skin is exposed to a lot of dust, bacteria, and sebum. For nearly 10 hours at night, your skin also contains a lot of oil and toxins that are excreted during sleep. Therefore, washing your face with a facial cleanser is very necessary and important, ensuring that the pores on the skin are always the most open.
Third, pay attention to the movements and forces acting on the skin.
male often use quite strong force when washing the face – this easily causes hidden damage to the skin structure, causing fast aging skin after that. Besides, the direction of impact on the skin is also very important, you need to massage in the direction from the bottom to the top, from the inside out so that the skin is both cleaned and increased firmness.
>>> See more articles: Causes of melasma in men Help you better understand the causes, the safest and most effective way to treat melasma for men recommended by many spa experts.
2. Use a moisturizer with SPF 30+
Job Use moisturizer extremely important, because after washing the face, the skin will more or less lose a amount of natural moisture. A thin layer of moisturizer not only Provide enough moisture to the skin but also skin protection layer, somewhat shielding the negative effects from the outside on the skin.
In the morning, you should use moisturizer with sunscreen, or moisturizer Has a high sun protection factor (SPF 30+). Moisturizing and sunscreen products will reduce cumbersome skin care steps, and effectively protect the skin against the negative effects of the sun.
However, to use 2-in-1 moisturizing and sunscreen products, you need to choose high-end cosmetic lines that are suitable for your skin condition to ensure that they do not cause stickiness. It is best to choose to buy products at large commercial centers to get the most thorough advice from sales professionals.
3. Combine moisturizer with Retinol at night
If you should combine moisturizer and sunscreen during the day, at night, you need to use a moisturizer with Retinol. Retinol is an ingredient that works to enhance skin regeneration, prevent wrinkles and support acne removal very well. Thanks to that, your skin's recovery and regeneration process is still going strong even if you don't use many cosmetic lines.
You can use Retinol in the form of a serum, then apply a moisturizer. Or use moisturizers with this ingredient. However, it is necessary to consult a doctor/dermatologist to choose an effective initial concentration/frequency of use, to avoid causing adverse reactions on the skin.
Skin Care Notes For Men
In addition to the basic daily skin care steps, men also need to know the following important notes:
Exfoliate 2 times a week: This is the most important step that you cannot skip every week. Because when not cleaned, dead cells will easily accumulate dirt, sebum and clog pores. From there, it is easy to form many skin problems such as acne, dark spots, dull skin, dry rough ...
Mask: Although not necessary and mandatory in the skincare routine, but if you regularly do it twice a week, the skin will be much smoother and healthier.
Do not arbitrarily touch your face or squeeze acne: Never touch your face with unwashed hands. Because hands are home to a lot of bacteria – they can attack the skin at any opportunity. Especially, if you are suffering from acne, touching the pimples also makes them more susceptible to infection and spread.
Do not share women's cosmetics: The structure and skin characteristics of men are different from those of women. Therefore, whether the same skin type or not, you should also use cosmetics specifically for men to ensure they are maximized.
Drink enough water: Drinking enough water is the most basic condition for the skin to be supplied with enough moisture from the inside. In addition, you also need to establish healthier eating habits to ensure healthy skin from the inside.
To have a healthy skin, men need to do the following: Basic skin care steps. Initially, make sure the skin is thoroughly cleansed and moisturized. After that, you can use more cosmetic lines to quickly own a more perfect skin.
>>> Related Articles: Skin rejuvenation for men with Hifu S + technology Is it safe and effective? - Follow the reviews and sharing of experienced KTVs in the field of male skin beauty.
Hope the sharing of Miss Tram - Natural Beauty Center will be useful to you. Please comment your questions/suggestions to make Miss Tram's article more complete!
You are viewing the article 3 Basic Skin Care Steps In Men's Skincare Cycle in the category News – Beauty Secrets of Miss Tram VietNam. All reviews and comments, please send them directly to Email teamcrmmisstram@gmail.com or you can comment right below the article.